Chochin (lantern) is a light source made of paper stuck to a frame made of thin bamboo cut vertically called "waritake" with a flexible structure. And a candle is erected at the bottom. Some light sources are electric rather than candles these days for safety.
Chochin (lantern) used to be a flashlight and were carried with a candle inside, but nowadays they are used in daily life or for festivals.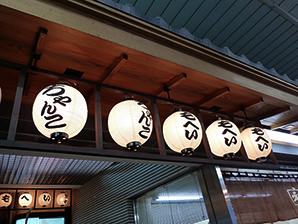 It is said that "Chochin" was used as a lantern at the beginning of the 16 century. It was not until the Edo Period (1596 ~ 1868), the 17 century, that paper lanterns became common, and some types of paper lanterns are still in use today.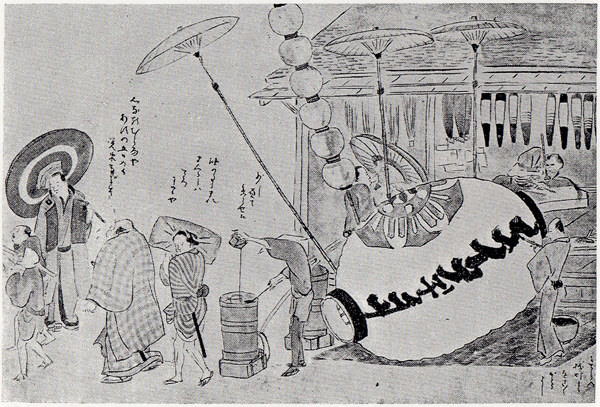 This is a picture that someone is drawing characters on the lantern in Edo Era.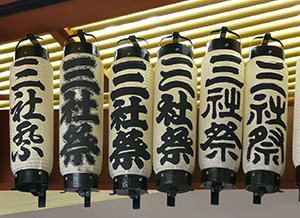 Many of the characters on the lanterns are "Edo characters". Even if it is the same letter, the mood changes depending on the font.
When you draw characters on a lantern, you may draw them all at a time with a thick painting brush, using India ink rubbed in a bowl, or you may draw rough sketches (to take the outline) with pencil, then draw outlines with sharp brush called "mennsoufude " which is a fine-paneled Japanese painting brush used to draw fine lines on the face such as eyebrows, and then paint the inside with a brush to finish the characters or draw them with a pattern paper.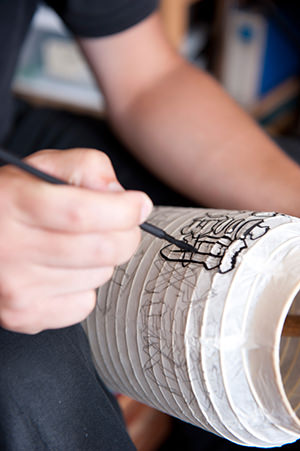 Japanese family crest is called "Kamon" in Japanese. It is said that there are about 25000 kinds of "Kamon". These family crests are often drown on the lantern. Now let's see how to write them on the lantern.
There are a lot of traditional festivals in Japan. You can see many kinds of lanterns at Japanese festivals. These two pictures are taken at " Gion festival" ,which is one of the most famous festivals in Japan. This festival is held in Kyoto every July. The origin dates back to the Heian period(794~1184).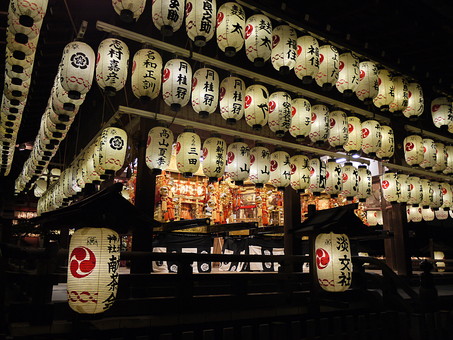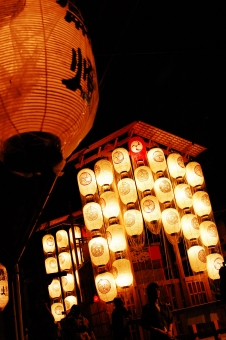 And this is a picture of "Sanjya Festival". Sanja Festival is an annual festival held in May at Asakusa-Shrine in Asakusa, Taito Ward, Tokyo. It is held on Friday, Saturday, and Sunday of the 3rd week of May. Why dont' you take part in this festival in Tokyo?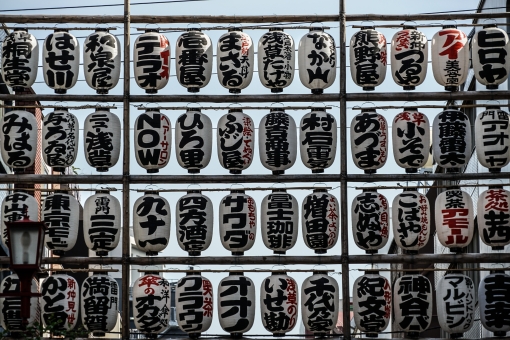 A festival featuring lanterns is held in Yamaguchi Prefecture. About 40 lanterns are attached to a pole made of long bamboo, and the lanterns are lit one by one by hand, creating a tunnel for the lanterns in the shopping district of Yamaguchi City. It is rare for candles to be lit in an arcade in Japan. The bond of light that has lasted for about 600 years passed down in the town of Yamaguchi. It was held on 6 and 7 August 1918.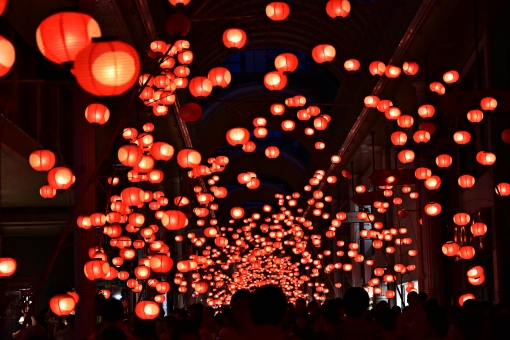 "Tanabata" is the night of 7 July according to the old calender, and was an annual event related to Obon (Around July 15 (old lunar calendar)) in Japan. "Tanabata Festival" in Sendai is held a month later than the solar calendar according to the new calendar.
" Tanabata Festival" has been passed down as a traditional event since the time of Lord Date Masamune, the founder of the domain. Today, it is known nationwide as a festival that combines the elegance of the ancient Japanese Star Festival with the gorgeous decorations.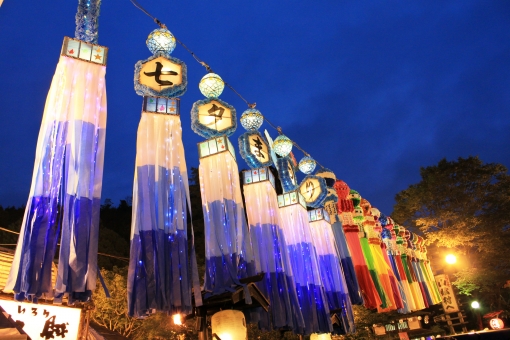 These lanterns play an important role in decorating "Tanabata Festival "。
Isn't it nice if you have one such a Japanese style lantern in your bed room?