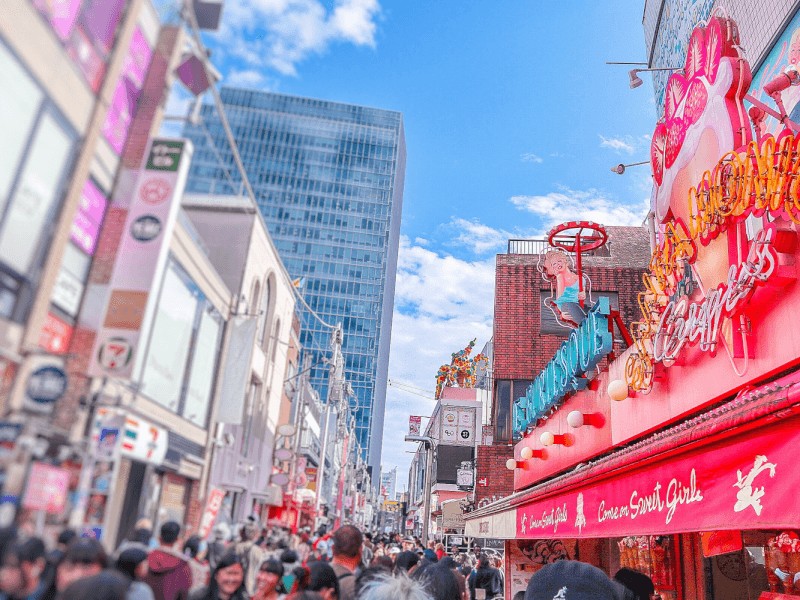 Takeshita Street is the street which is about 350 meters long from Harajuku station toward Meiji street. It is one of the streets where young people gather in Japan. It's an area packed with the latest trends. Also, there are many shops selling colorful sweets, and they are attracting the young people.
Kawaii Monster Cafe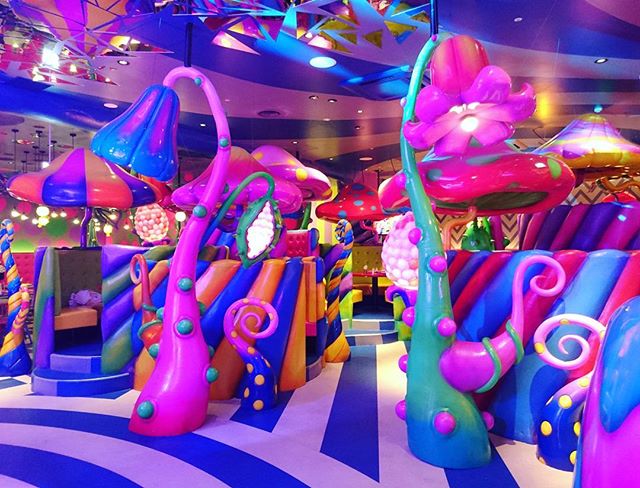 You can enter the store through the wide open monster's mouth. Then there is a merry-go-round and it looks like a theme park.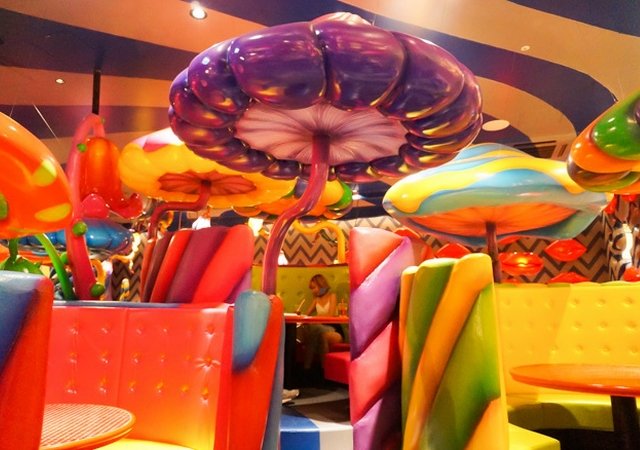 The store is divided into four zones. It's too strange and wonder to explain but….
The first one is a mountain of poisonous mushrooms "MUSHROOM DISCO". And second zone in called "MILK STAND". There hanging a baby bottle shaped light, and you will be surround by the baby monsters. The third zone is the jellyfish bar, dubbed "Bar Experiment". In the last "Mel-Tea ROOM", there is a macaron tower, a coffee cup table with ice cream and shortcake spilled on the ceiling, which is a strange space.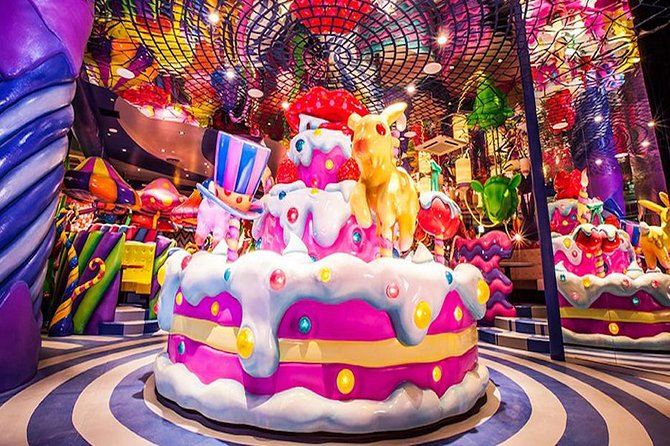 The most popular sweet here is "Calafulpoise Pafé Extreme". This cream is not only colored but also has different flavors for mango, melon, strawberry, blueberry and mint.
"Colorful Rainbow Pasta (Painter)" is also popular. It is a plate like a palette of paintings. The five colorful sauces are just like paint.
Cheddar cheese cream, genovese cream, chili tomatoes, garlic mayonnaise and butter. The pasta itself is colorful, but this dish is a fresh peperoncino pasta and the taste is very delicious.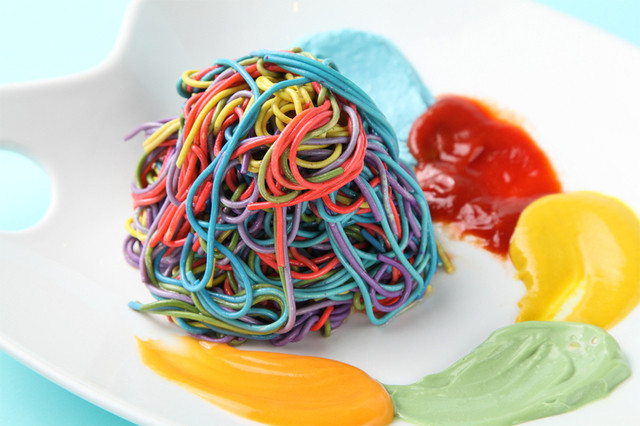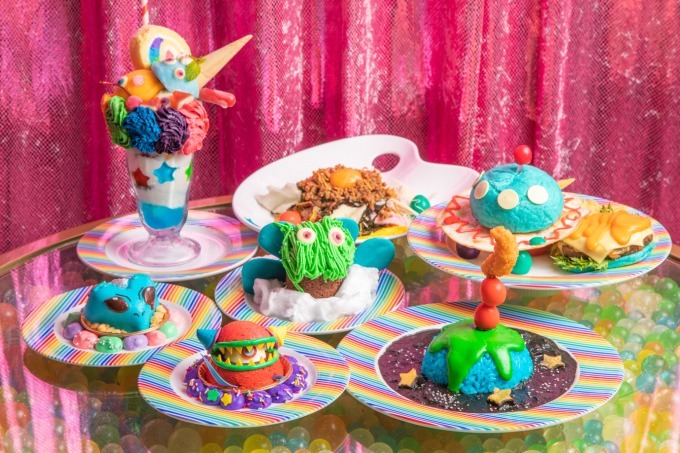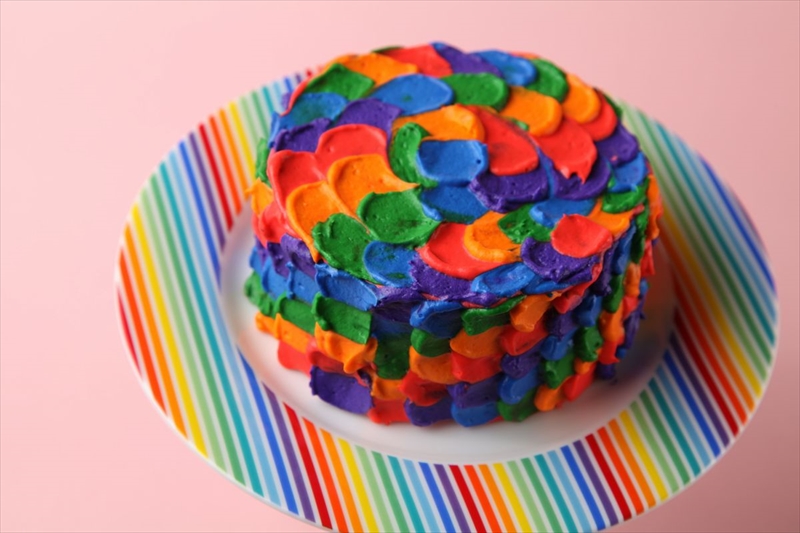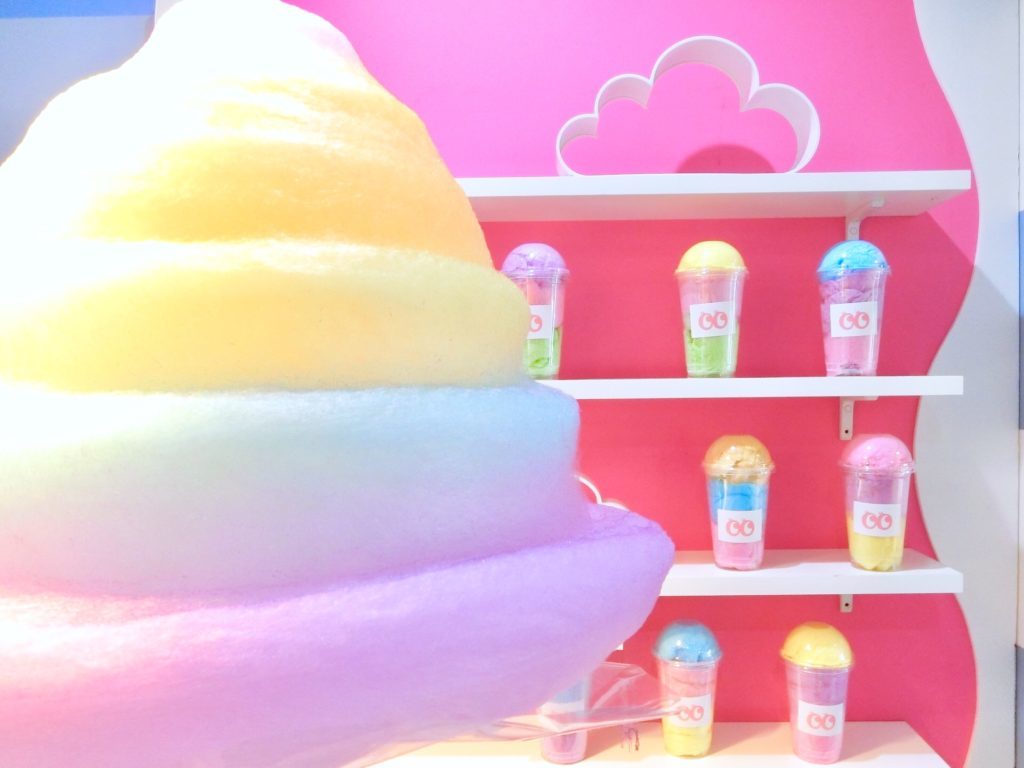 The colorful store sells various candy by weight and cute animal faced cake pops (300 yen ~) in this shop. . The most popular one is the giant cotton candy "TOTTI Heart Watashi (600 yen)". Please try it.  You can see the shop's clerk making Wata-ame up for you.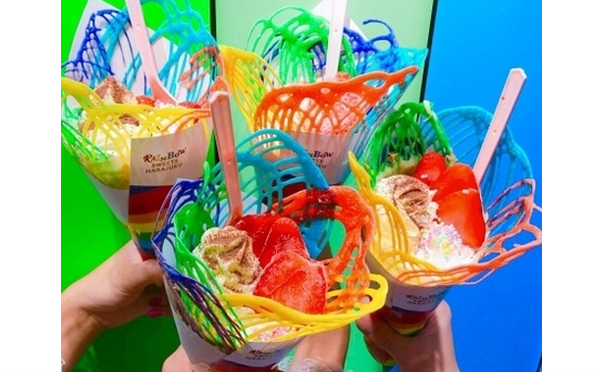 These are "Rainbow Crape". There are fresh cream and strawberries in the rainbow crepe. The strawberry jam is on the bottom as you eat!! There is cocoa powder on mascarpone cream.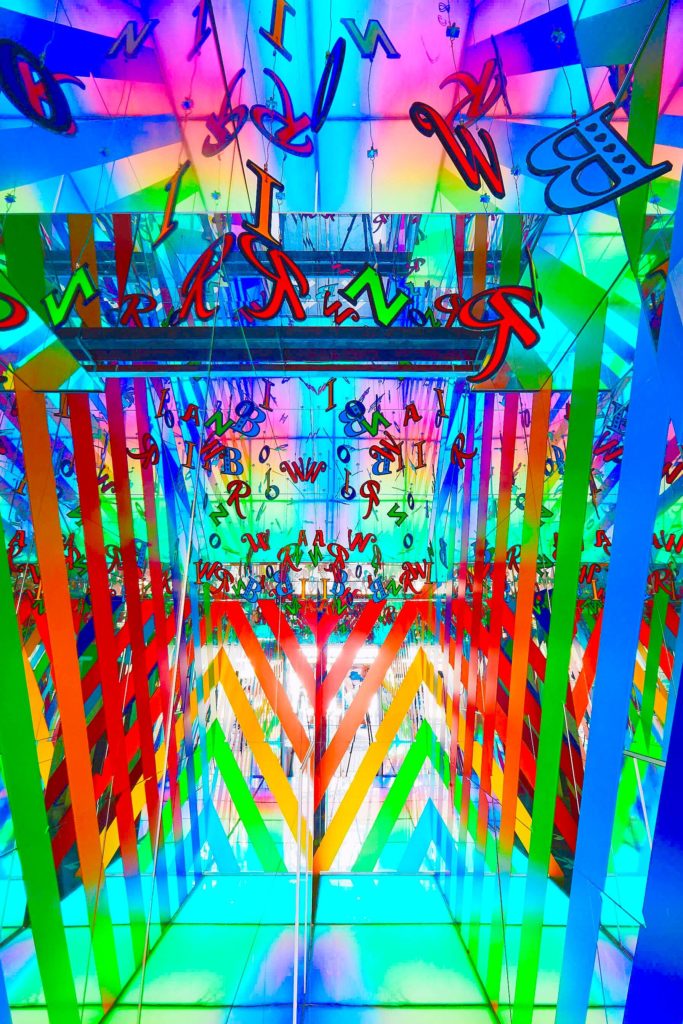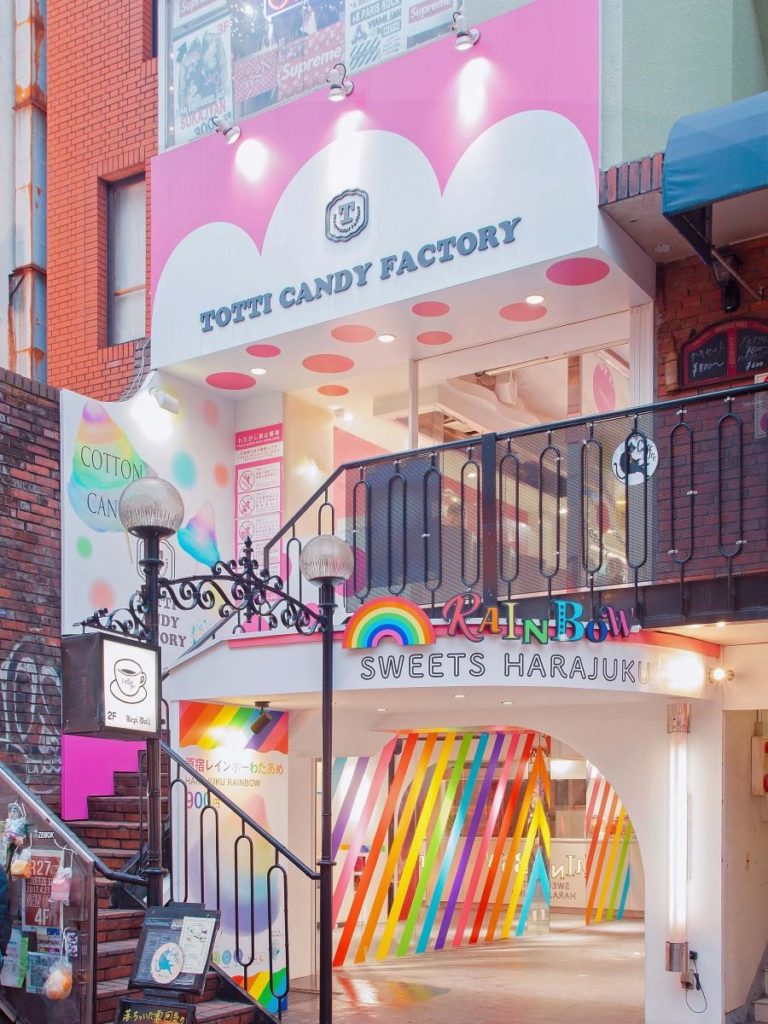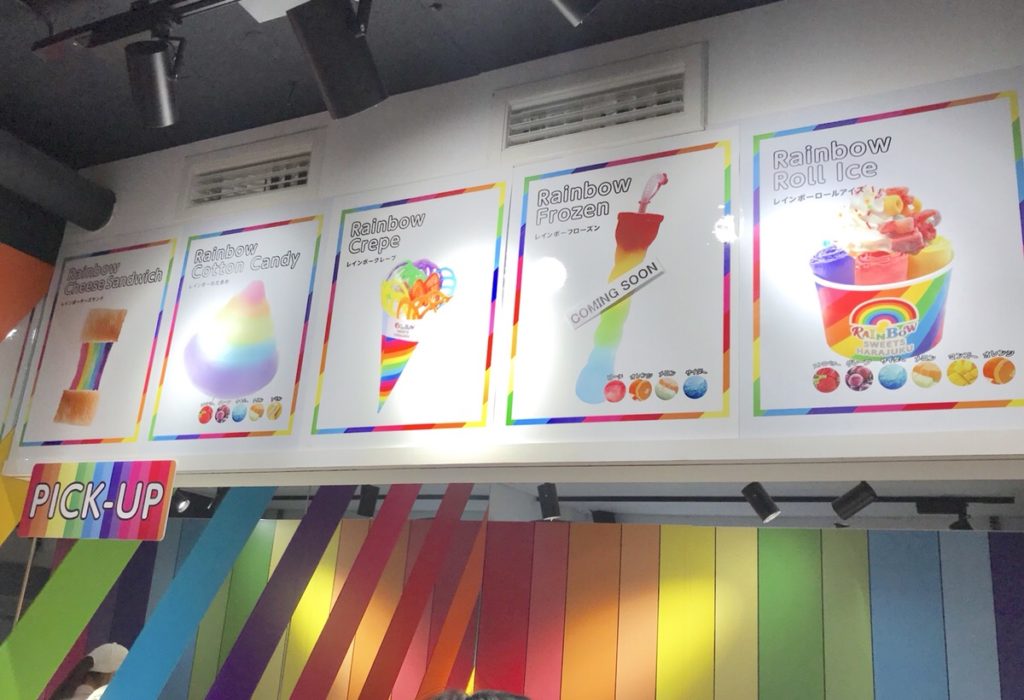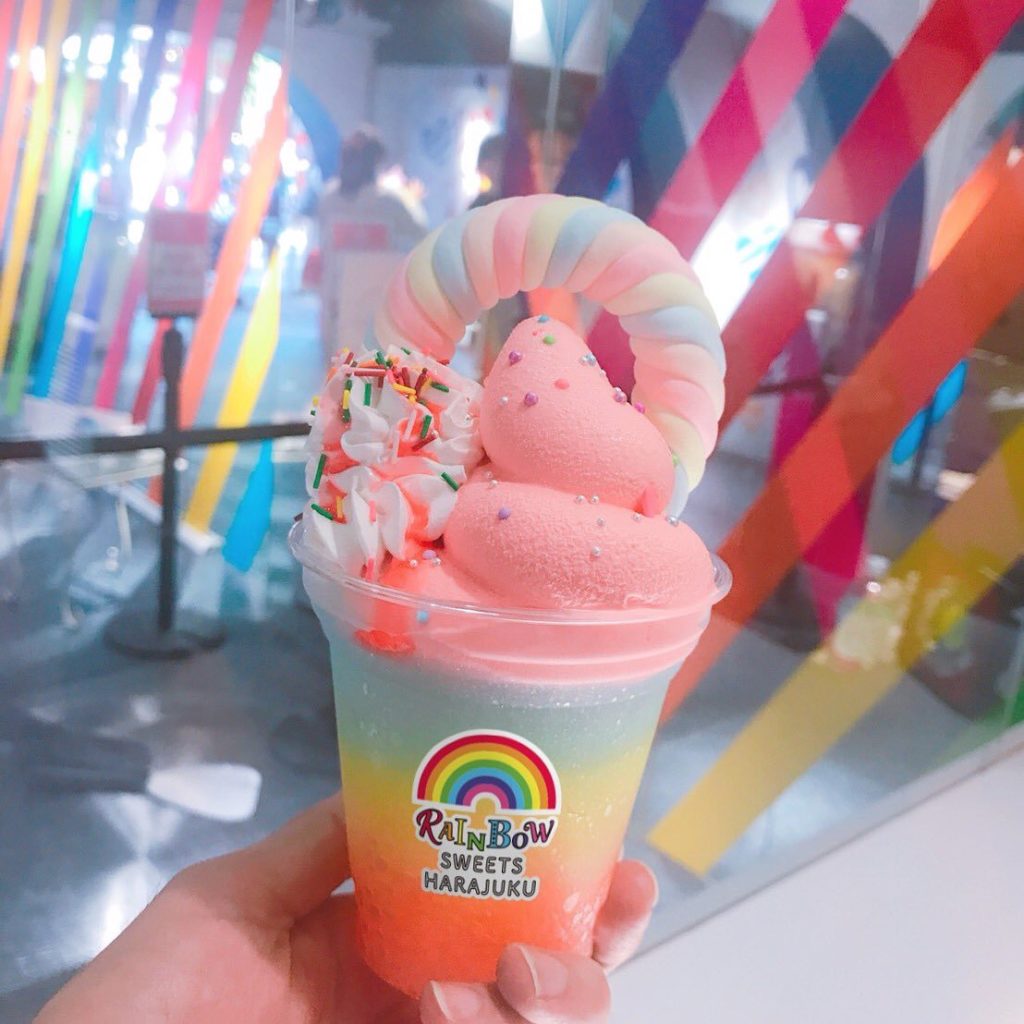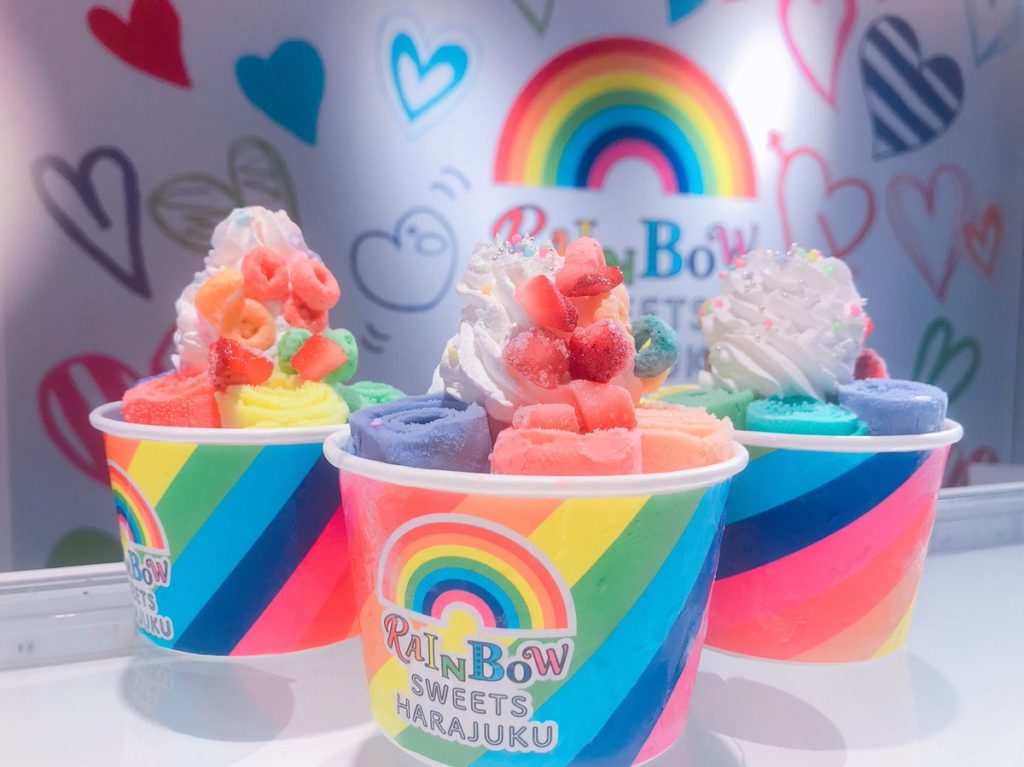 Address: RYU Apartman, Jingumae 1 chome 16 -5, Shibuya-ku, Tokyo
Access: 179 m from Harajuku Station
Opening hours: [Sat, Sun, Holiday] 11: 00 ~ 20: 00 [Monday to Friday] 10: 00 ~ 20: 00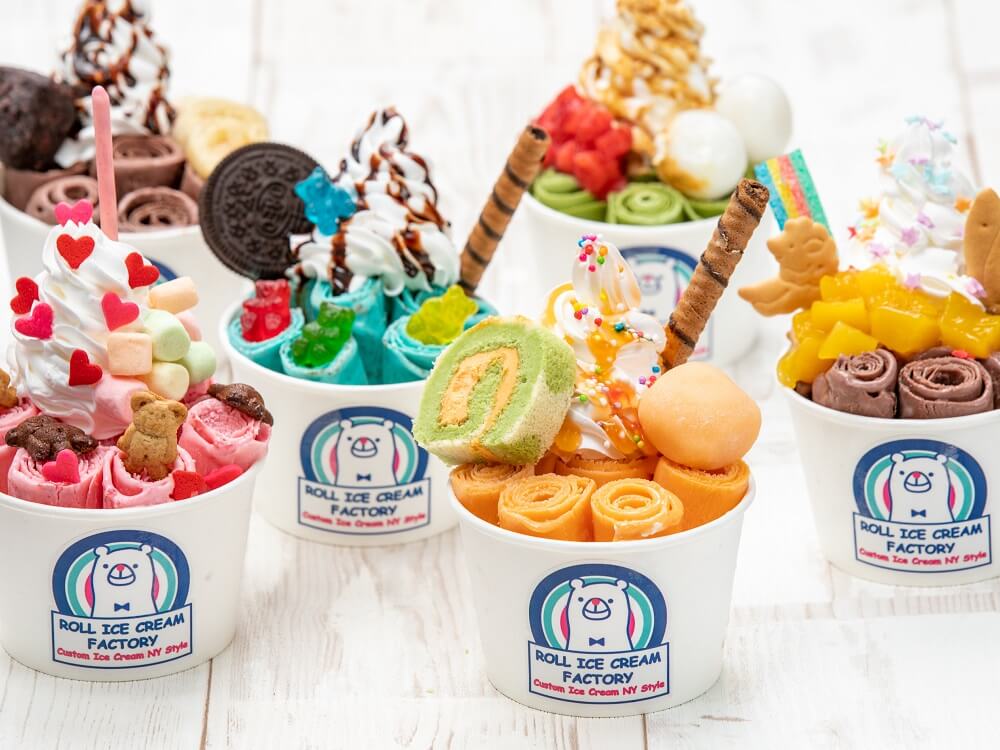 'ROLL ICE CREAM FACTORY' is a NY style cold plate ice cream specialty store of "First in Japan". The first store opened in Harajuku in June 2017.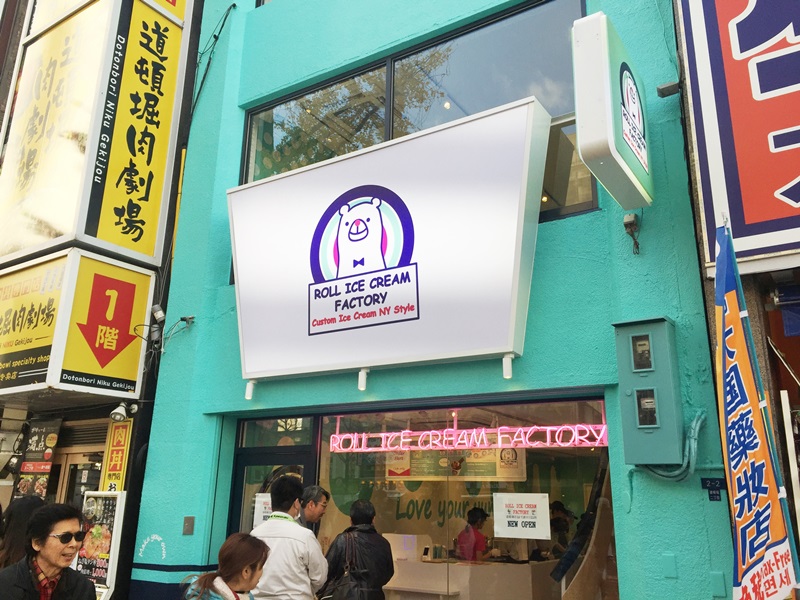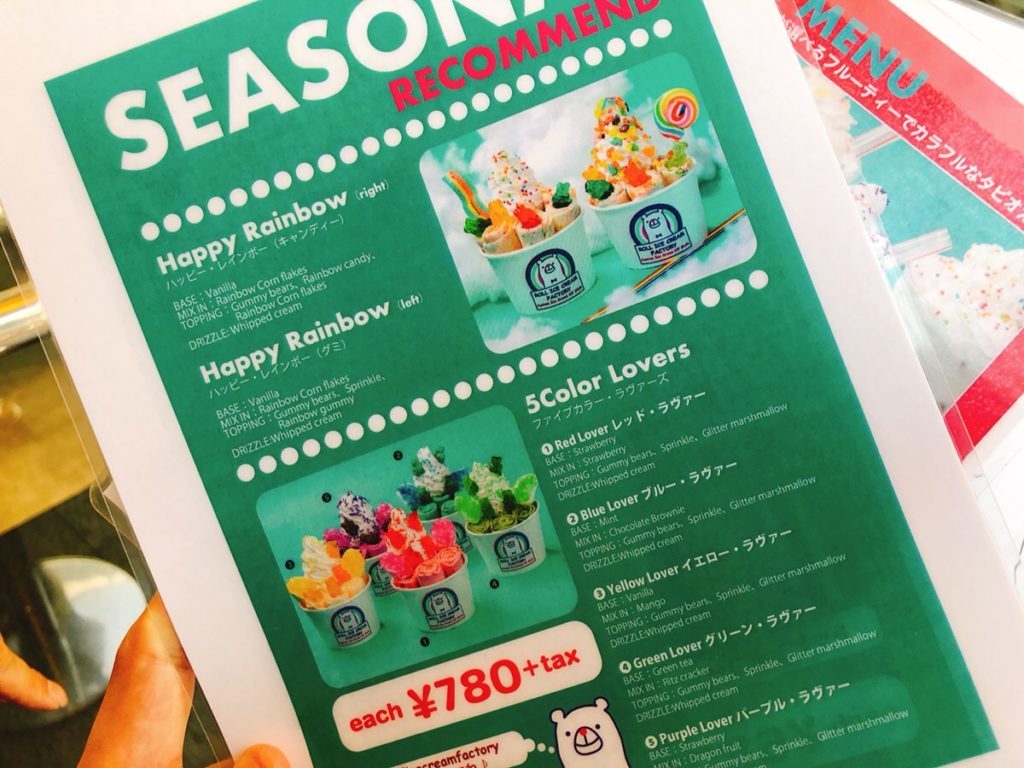 At "Roll Ice Cream Factory" you can have your ice cream made right in front of you. They shows you how to make ice cream from liquid cream on a cold plate below minus 10 degrees Celsius. You can enjoy watching the process of the staff winding it with a spatula . They make roll ice cream very efficiently.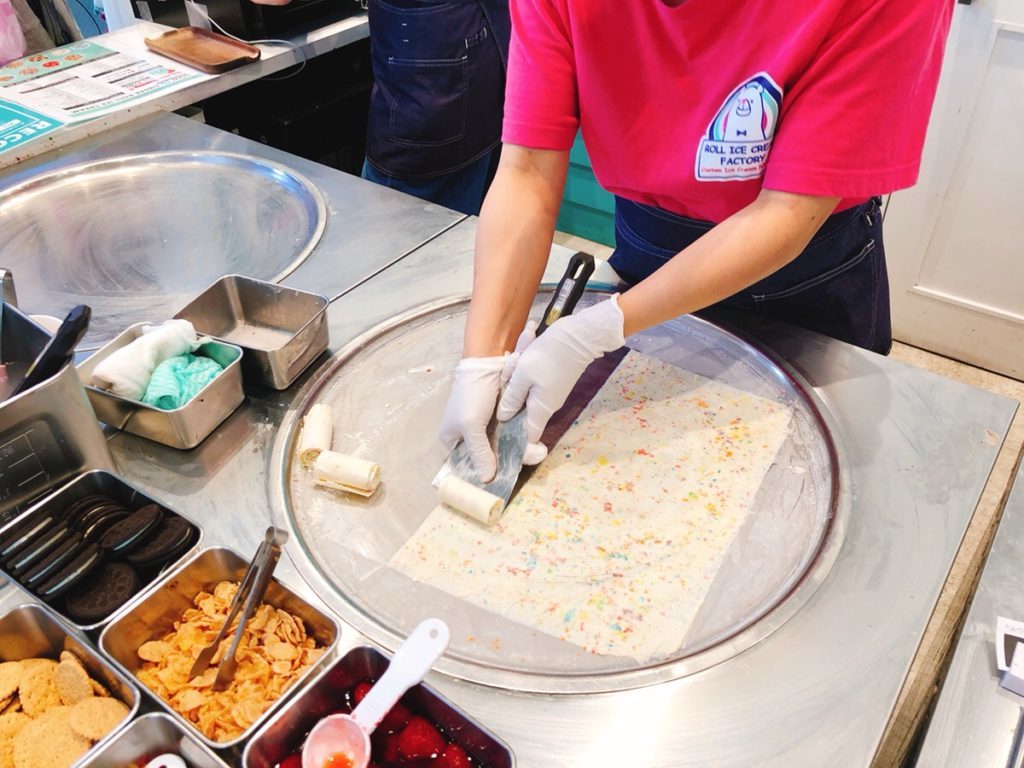 There are 4 steps to order! When you get in, check the menu first.
1Choose one base flavor from vanilla, chocolate, matcha, and strawberry
2. Choose 1 of 20 mixed in ingredients such as cookies, sweets, fruits, azuki beans, cornflakes, cream cheese, etc.
3. Choose 2 toppings from over 40 ingredients including cookies, marshmallows, fruits, bracken-starch dumplings, 3 color dumplings, sweet potato jelly, etc.
*You can add 1 more for 108 yen.
4. Select 1 of 12 sauces including whipped cream, matcha sauce, chocolate sauce, condensed milk, honey, brown sugar syrup, etc.
*You can add 1 more for 108 yen.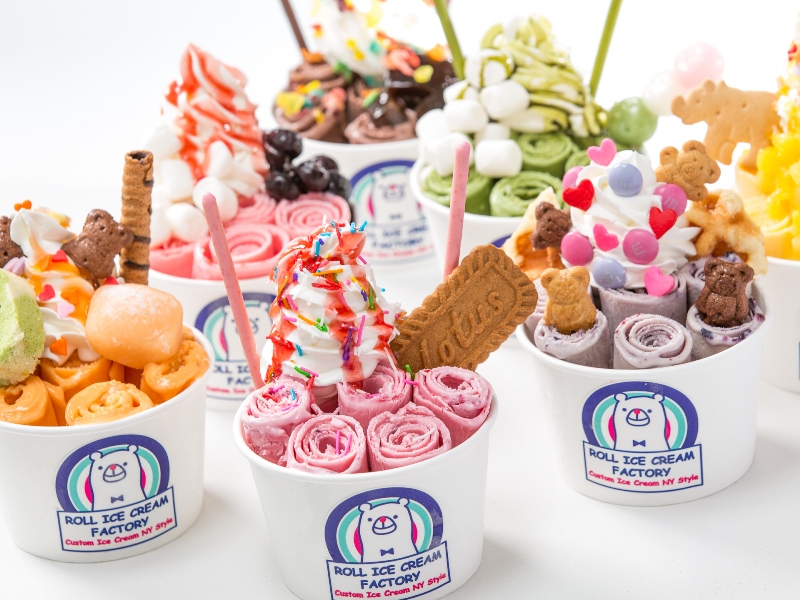 Whipped cream has plenty of cornflakes.
You can adjust the sweetness by eating it with ice cream.
Address: 4 -28 -12 Jingumae, Shibuya-ku, Tokyo
Opening hours:10: 00 ~ 21: 00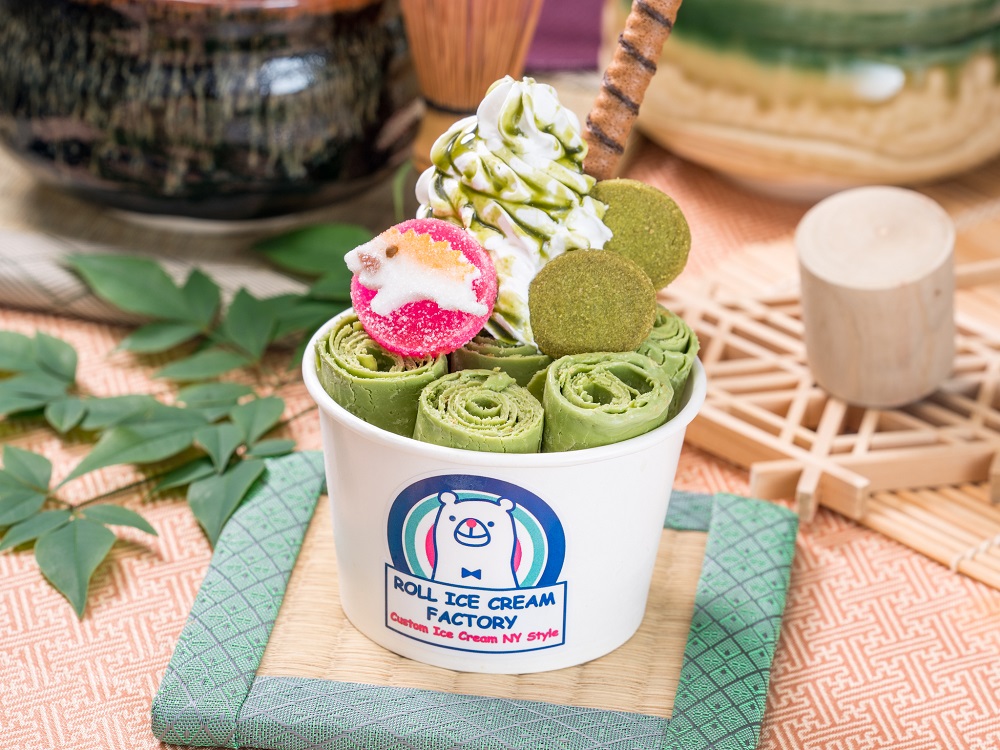 At 'Roll Ice Cream Factory in Shinkyogoku, Kyoto' the first franchise store on Shinkyogoku-dori in Nakagyo-ku, Kyoto, which opened on Friday, January 11, 2019, a limited menu item was sold in collaboration with "Kyokashō Takanoya Sadahiro" a long-established Japanese confectionery store in Kyoto.  "MATCHA KYOTO 2019" topped with wild boar half-baked sweets, the Oriental zodiac of 2019, were also sold for a limited time at all 6 other stores. They also held the (Green tea: Kiss) "Green Tea Kiss", which has been popular for its cuteness since the opening of the main store in Omotesando, Harajuku, and the ice cream festival "Matcha FESTA", when they sold the "Matcha" flavor trio, including the "Matcha Whisper" (Macha Whisper), which is popular among adult girls.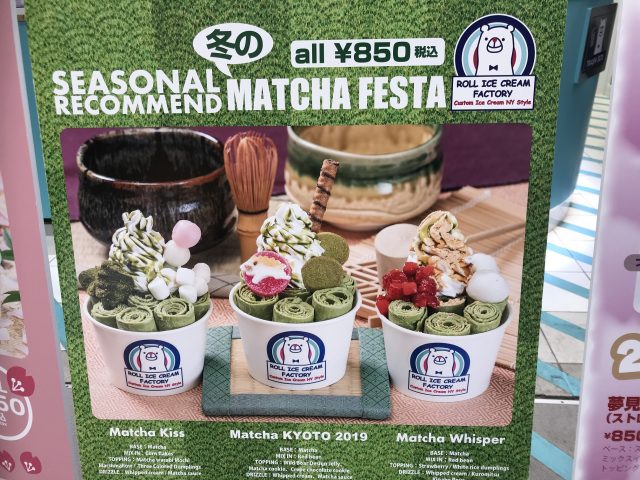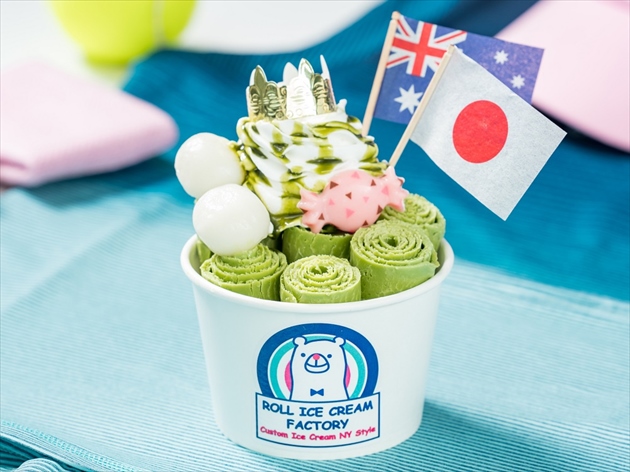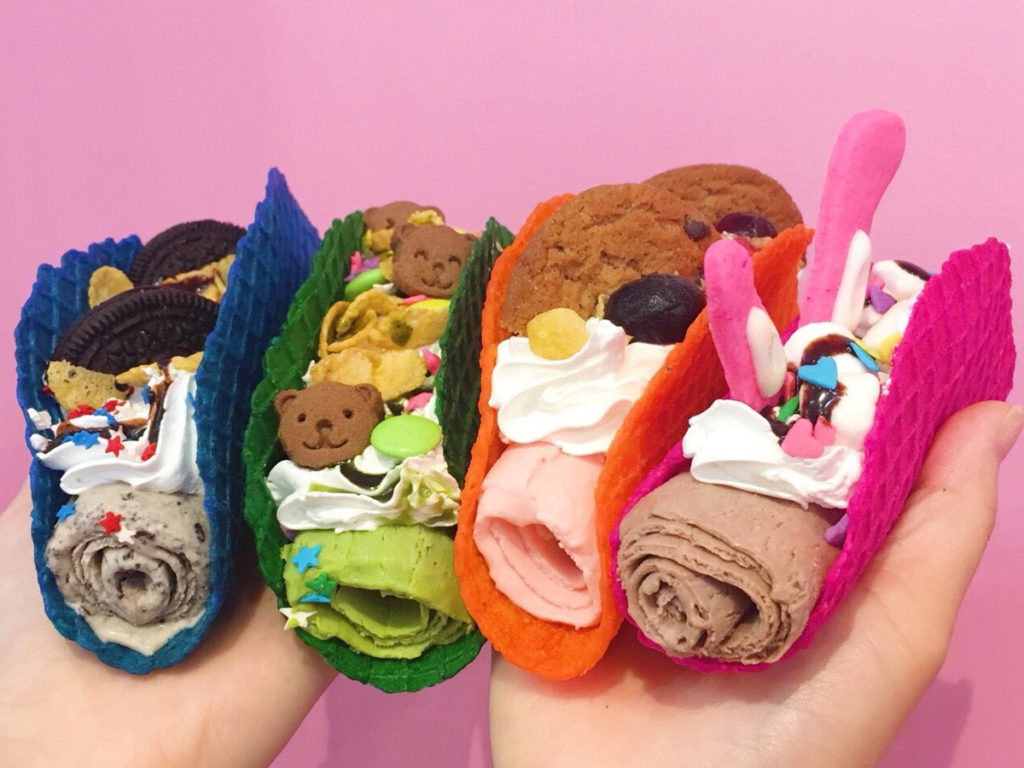 Rainbow crepes is sales on now at the Rainbow Sweets Specialty Shop "RAINBOW SWEETS HARAJUKU" in Takeshita Street, Harajuku from Tuesday, November 6, 2018.
"RAINBOW SWEETS HARAJUKU" is popular among young girls for its rainbow colored dessert.
Rich mascarpone cream is used for whipped cream . It is characterized by thick melting in the mouth. It goes well with cream and strawberries inside.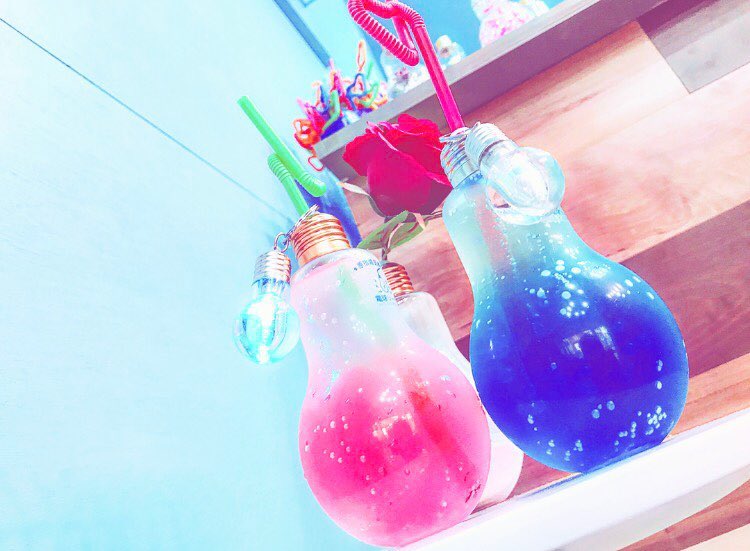 Soda is sold as a set consisting of a bottle shaped like a bulb and a LED light shaped like a bulb that illuminates seven colors. There are nine flavors, including peach soda, mango soda, matcha milk, strawberry soda and strawberry milk.
Address: Jingumae, Shibuya-ku, Tokyo 3 -20 -7
Access: 9 minutes walk from JR Harajuku Station, 5 minutes walk from Meiji-jingu-mae Station
Opening hours: 11 o'clock to 18 o'clock