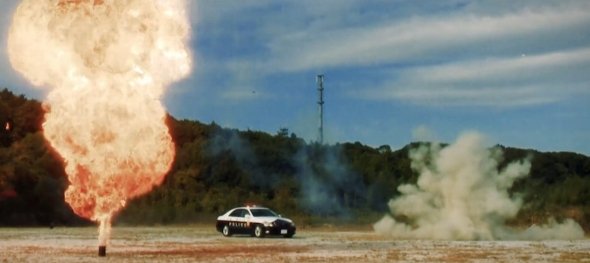 This project was planned by a town called Chikuho in Kyushu. Since the population of Chikuho town is decreasing and the town is losing its vigor, the town officials came up with this plan.
The project named "Chikuho Action Project" will reproduce the flashy action scenes you see on TV and movies. You can enjoy shooting performances live as a actor including shooting firearms, explosions from a patrol car and gun battles.You can be an action star at a filming action movies set at stations and fields.
You will be able to see the smoke and the fire column coming at the car which imitates a police car running in an open space. It's so serious that you'll be glued to the screen.
The official site already shows the test run.https://www.project-chikuho.com/
The next project is an action scene filming activity such as a gun fight using a train in Kaneda Station of "Heisei Chikuho Railway" which runs through Chikuho! It will be held on April 21!
In Japan, where filming regulations are strict, it is very difficult to take action pictures inside stations. With the cooperation of Heisei Chikuho Railway, I was given an opportunity to experience action photography, which was not possible in Japan.
Participation Details
Heisei Chikuho Railway action shooting experience
It will be held on Sunday, April 21, 2019! Reservation accepted!!
(Due to preparation, the reception deadline is scheduled to be late at night on April 17.)
(Schedule: The schedule may change slightly depending on the circumstances.) <Schedule of April 21>
11:00 a.m. ~ "Station Home Shooting Experience"
1:00 p.m. ~ "Train yard explosion car action experience"
3:00 p.m. ~ "Train siege and defense experience"
<participation fee>
You can participate in each course or group! (Up to 3 people per group) In that case, you can split the cost by the number of people.
1 "Station platform shooting experience" ¥10,000 (Including tax and firearms rental)
2 "Car action shooting at a demolition yard" ¥30,000 (Including tax and firearms rental)
3 "Train siege shooting experience" ¥30,000 (Including tax and firearms rental)
※ All courses with admission ticket of Nakamura Museum of Art
<option cost>
"train explosion scene" ¥30,000 (Tax inclusive: Jumping against the background of an exploding train. Up to 2 people can participate in the group.)
* Course 3 "train offensive and defensive battle" + Set of train explosion end ¥60,000 (Tax included)
"blood loading" ¥10,000 (2 bullets including tax)
<set charge>
Group participation is also OK! (Up to 3 people per group), in which case the expense can be split by the number of people.
1 + 2 + 3 + Full course set with train explosion end ¥90,000 (With tax and video editing)
Please refer to the site here.
https://www.project-chikuho.com/