Building where expressway runs through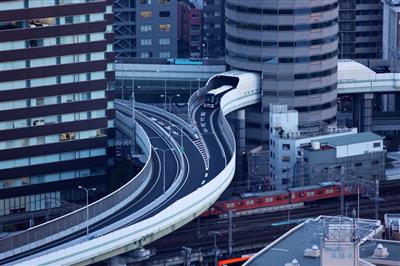 The TKP Gate Tower Building is a 16-story office building located in Fukushima-ku, Osaka City. An expressway passes through this building!
Hanshin Expressway Route 11 Ikeda Line Umeda Exit runs through the 5th to 7th floors of this building.
Although the owner of the land planned to renovate the building due to the deterioration of the office building, but it was not permitted by the local government because the expressway was to run according to the city plan.
On the other hand, the landowner did not give the land to the government so after the negotiation, it was decided to pass the highway through the building.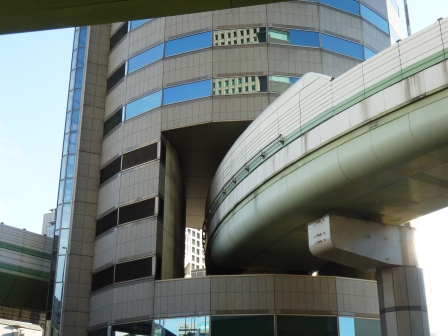 Building with cook's head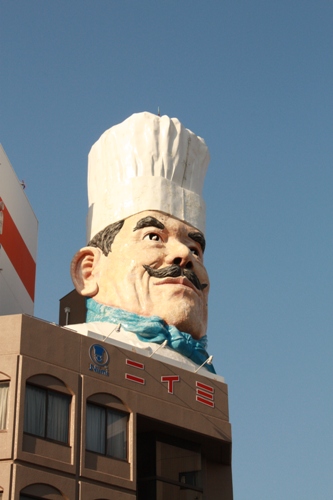 There is a building with this chef's head in Kappabashi Dogu Street just in the middle of Asakusa and Ueno. The shopping district, which has about 800 meters long street from north to south, is lined with food stores that specialize in food samples and tableware, cookware, and uniforms for people who work in restaurants.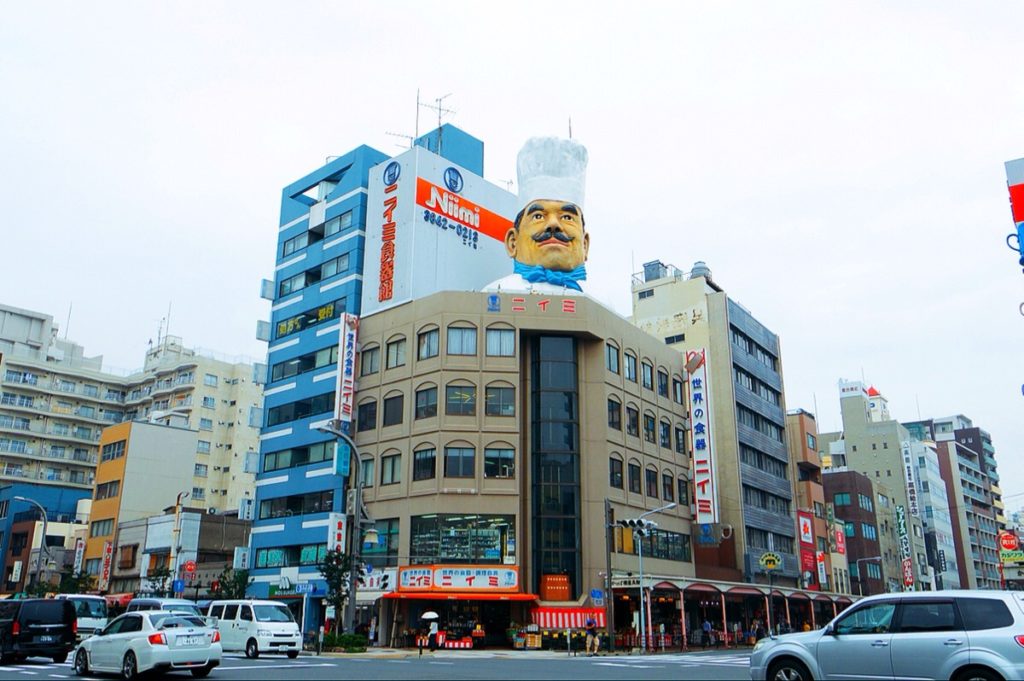 Building with coffee cups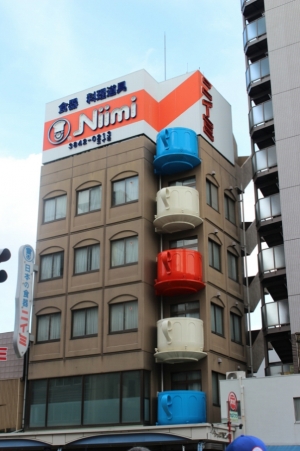 Another building in the same store as the one above has a building with a coffee cup. This building is also in Kappabashi.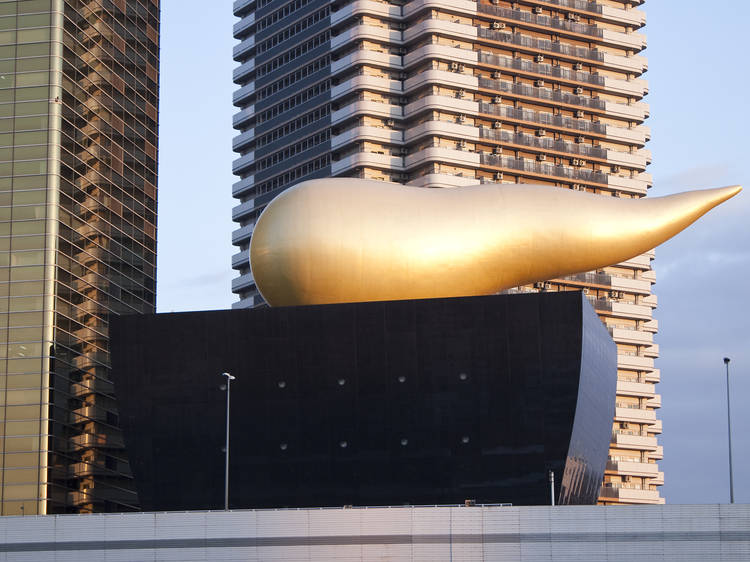 Asahi Art Square is located on the 4th to 5th floor of Super Dry Hall, where golden objects "Flamdol" shine on the roof near Sumida River and Azuma Bridge. It is an art space where Asahi Beer Co., Ltd. is based for Mesena activities. Various events are held centering on exhibitions and stages.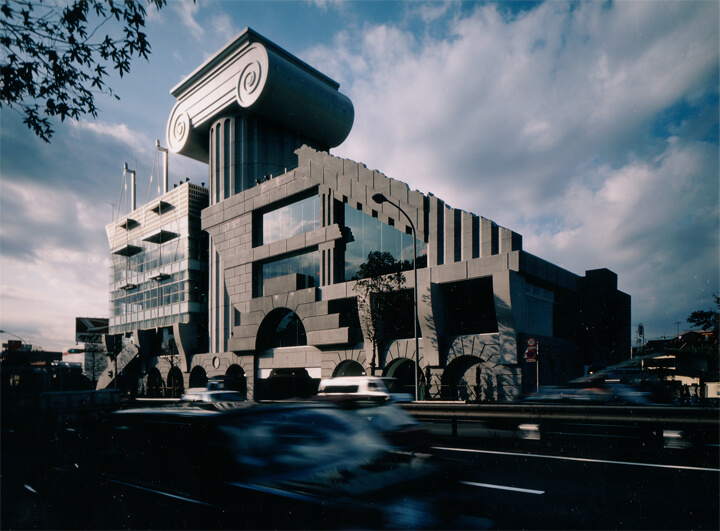 "M2" is a Mazda showroom designed by Kengo Kuma in Kinuta, Tokyo.
It's a building featuring postmodern design, one of Kengo Kuma's early representative works. It is now the Tokyo Memory Lead Hall of the funeral hall.
CG Proso Museum Research Center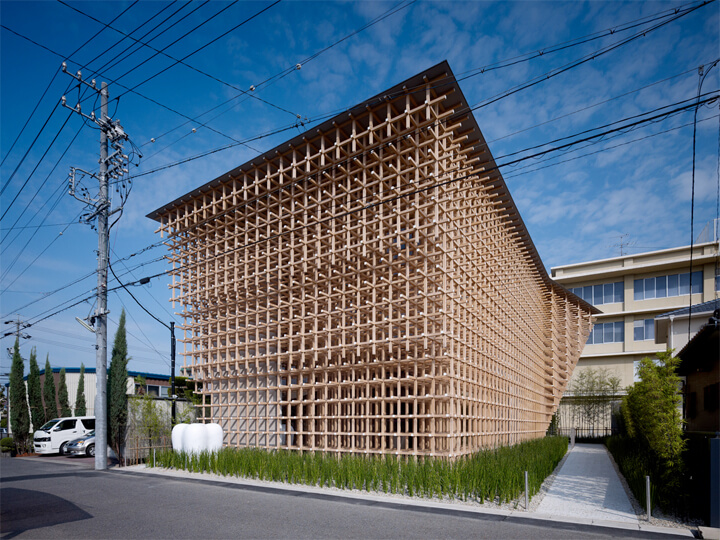 "GC Proso Museum Research Center", a research facility and museum designed by Kengo Kuma in Kasugai City, Aichi Prefecture
This building features houndstooth lattice made of Japanese cypress and does not use nails or adhesives at all. The cross section of the wood is dyed white to protect the wood.
Japanese restaurant "Kutsurogi "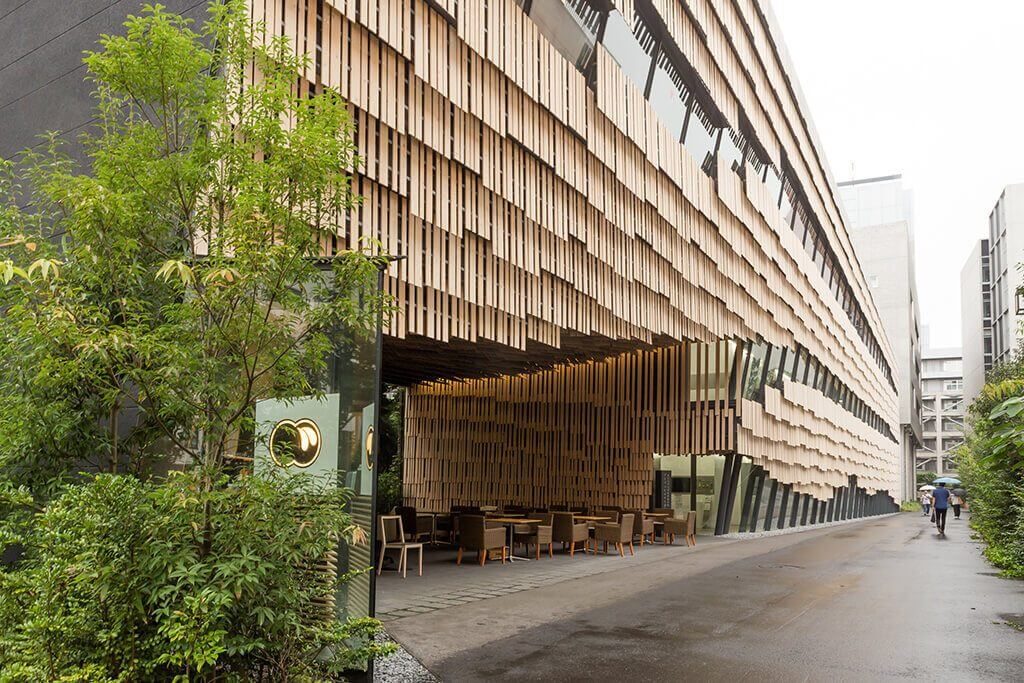 The building was created by Kengo Kuma, an architect who is a professor at the University of Tokyo. It is on the campus of the University of Tokyo, and there is a Japanese restaurant inside the building.
Mitaka Tennmei Hanten House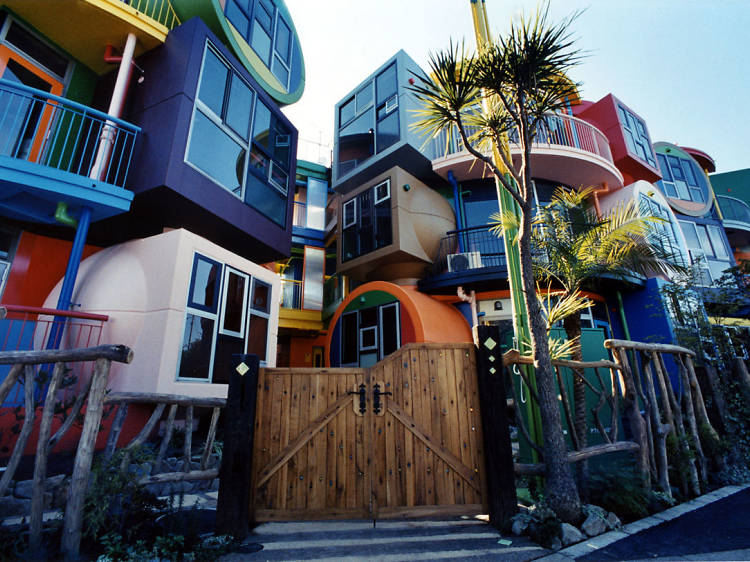 Arakawa Shusaku + Madeline Gins completed the world's first "a lifeless home". Basically, it is a house, so when you visit it, please adjust the date of the tour which is often held.
Treehouse Restaurant in Okinawa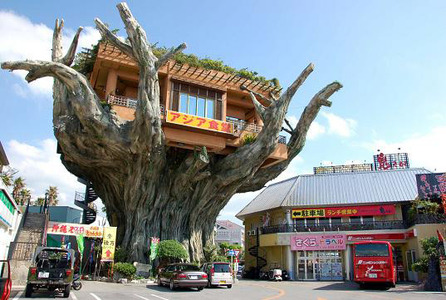 If you take Route 58 from Naha Airport and drive about 10 minutes, you will see a strange sight on your right.
"Wow, what? There is a restaurant on a big banyan tree. This is the "Asian Restaurant". You can enjoy Asian delicious food including Okinawan food at the restaurant. The view from the top of the tree is excellent,too.
Central Silver Capsule tower building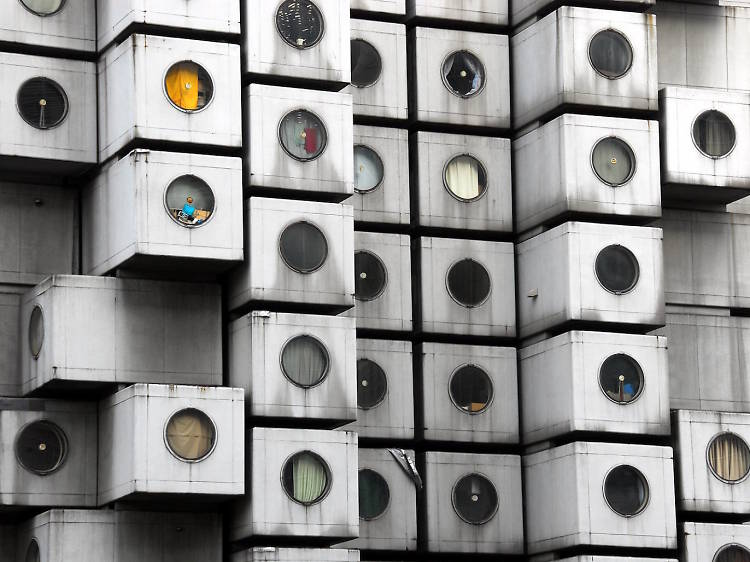 The central silver capsule tower building in Ginza is an example of Japanese metabolism architecture. It consists of 140 rooms (Each room is 10 square meters, so it can hardly be called a room.), but only half are currently being used, mostly for offices and storage.
It was planned to be demolished many times, but every time, it was opposed because it was a building heritage representing Japan. Currently, private capsule rooms are still available for rent and tours are semi-regularly held (There is also an English tour.).