Asakusa has prospered as a downtown since the Edo period. Even now, it is a special area in Tokyo where you can feel the atmosphere of Japanese old tradition, and it is a very popular tourist spot for both Japanese and foreign visitors. It is located in the east of Taito-ku between Bunkyo-ku and Sumida-ku. You will be able to see various historical buildings and experience cultures there. It is located very close to Tokyo Skytree and has a lot to see.
For Asakusa sightseeing, you need just one day to look around the important places. However, there are a lot of people on holidays and it's very crowded, so you should expect it to take longer than on weekdays.
In Asakusa, you can basically look around on foot. There are many coin lockers at the station and in the town, so you should leave your large luggage first.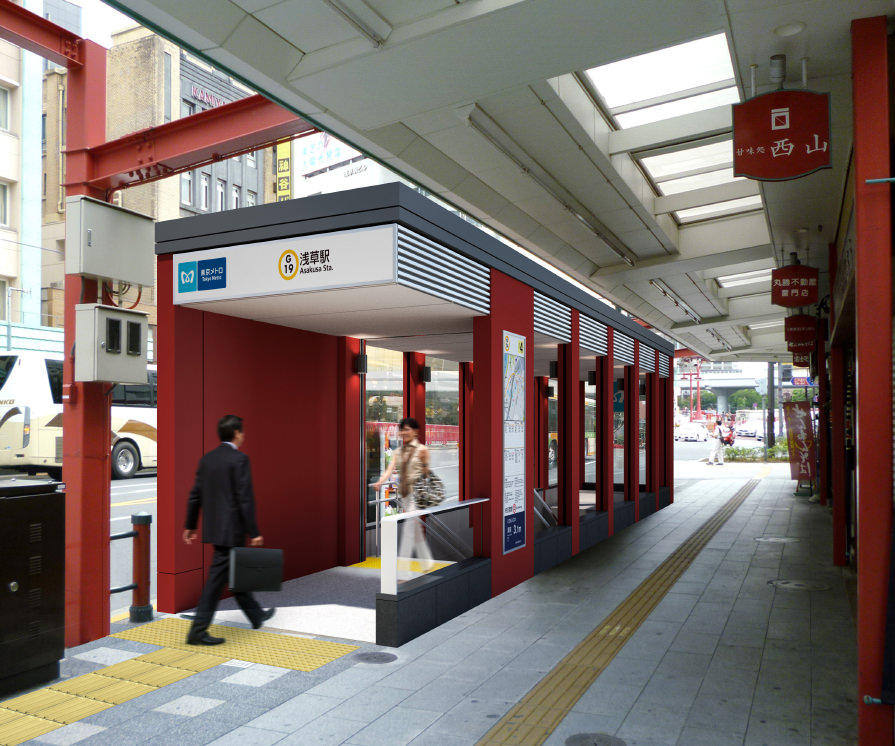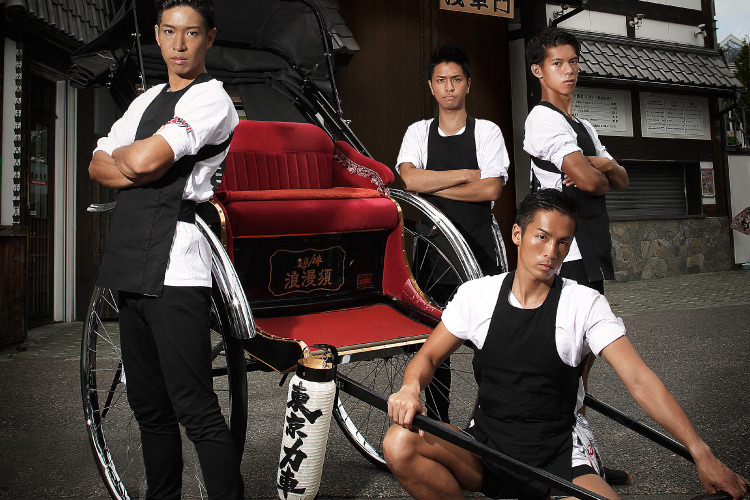 A lot of rickshaws line up in front of Asakusa Kaminarimon and wait for customers. Visiting famous places by Jinrikisha may become a good memory of Asakusa. There are various plans such as for a short distance and a day use.
The rickshaw man who knows Asakusa well will show you the sightseeing spots in Asakusa. You can go anywhere you like such as Benten Mountain, Asakusa Shrine, Asakusa Engei Hall and Hanayashiki.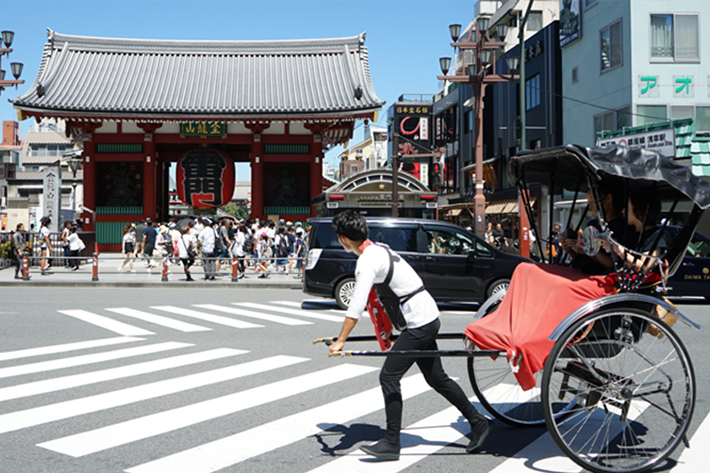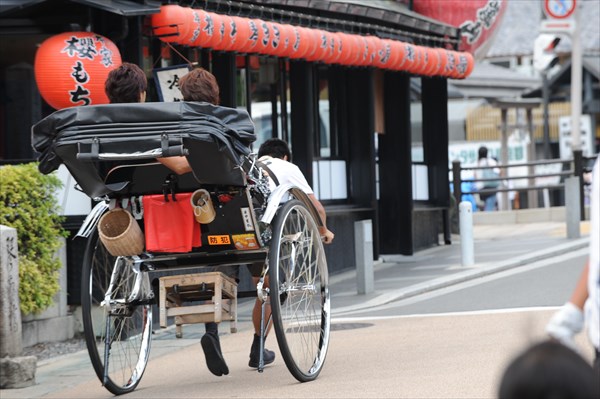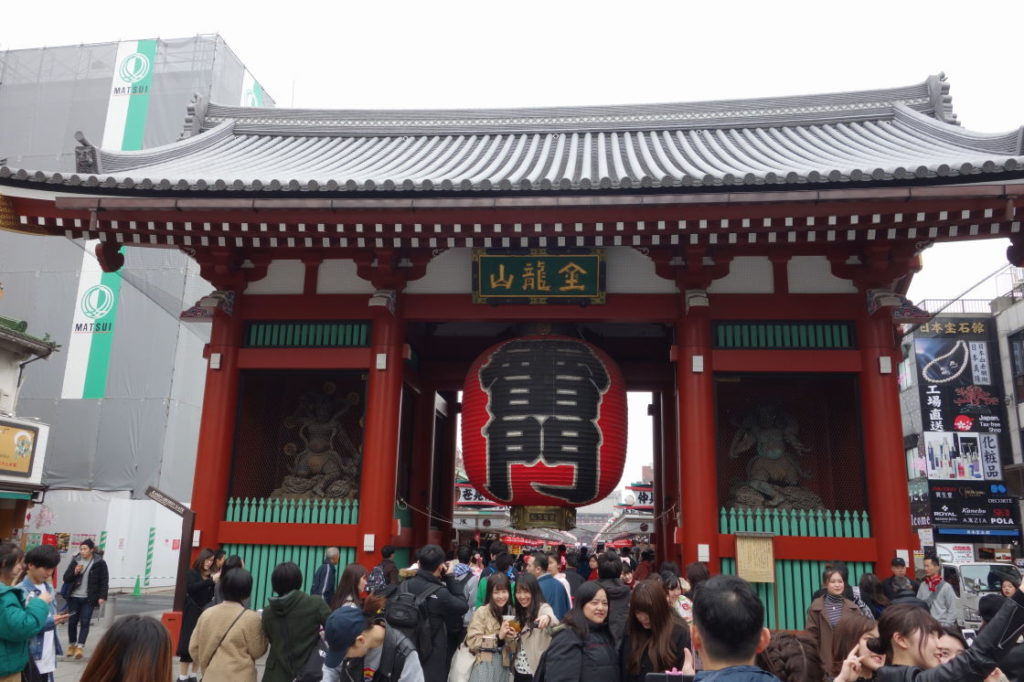 Sensoji is the oldest temple in Tokyo with a history of nearly 1400 years. It is the head temple of the Sho Kannon sect, which enshrines Sho Kanzeon Bosatsu (Buddhist image normally withheld from public view) in the main hall. The main gate "Kaminarimon" is very famous. It is crowded with many tourists from home and abroad every day. Kaminarimon has been repeatedly burned and rebuilt since its founding, but the present Kaminarimon was donated in 1960 by Konosuke Matsushita, founder of Panasonic.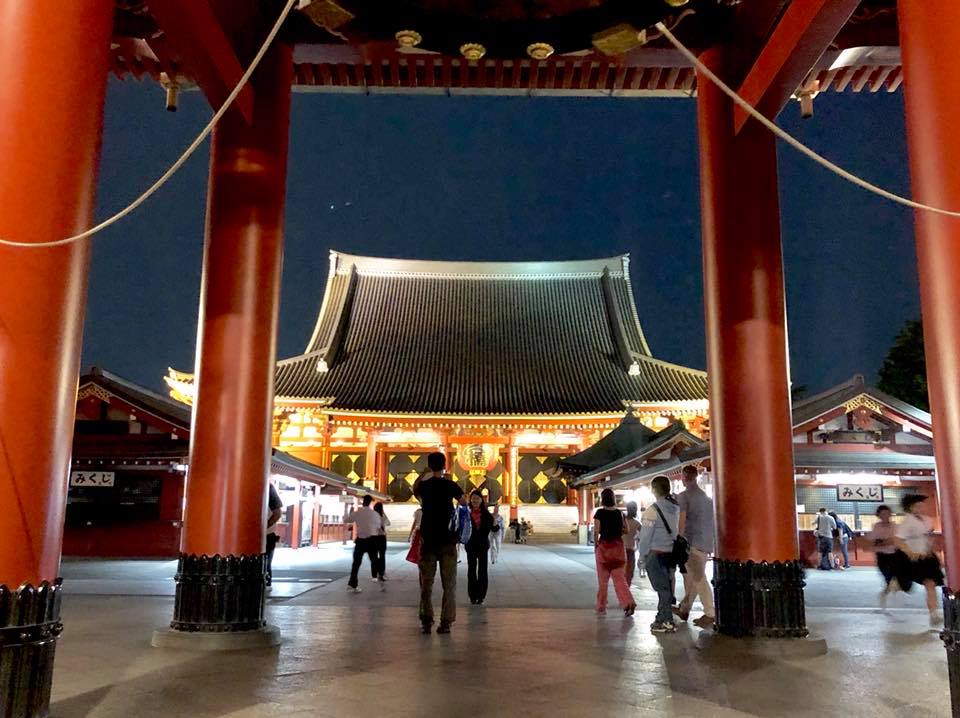 According to Sensoji Engi, a gold dragon appeared from heaven three days after Kannon appeared. You can see "Dragon sculpture" on the bottom of the large lantern at Kaminarimon. The "Ryujin" that controls the water is enshrined on the back of the "Fujin Raijin zo" on the left and right. Why don't you enjoy sightseeing while finding dragons in various places in the precincts such as the water shed, the ceiling of the main hall, and the bottom of the lantern of Hozomon.
The original old hall was designated as a national treasure, but it was burned down in the Great Tokyo Air Raid in 1945. The current main hall was rebuilt later and is made of reinforced concrete.
You can enjoy a fortune slip right next to the main hall. It is written in English, so even people who don't understand Japanese can enjoy it.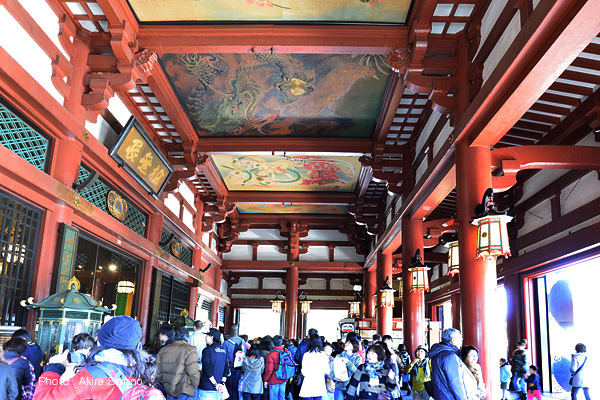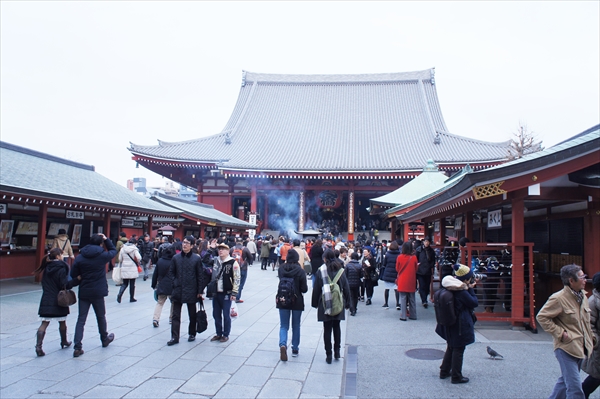 Access: Approximately a 5-minute walk from Tobu Skytree Line, Ginza Line, Toei Asakusa Line, Tsukuba Express "Asakusa" Station
Address: 2-3-1, Asakusa Taito-ku, Tokyo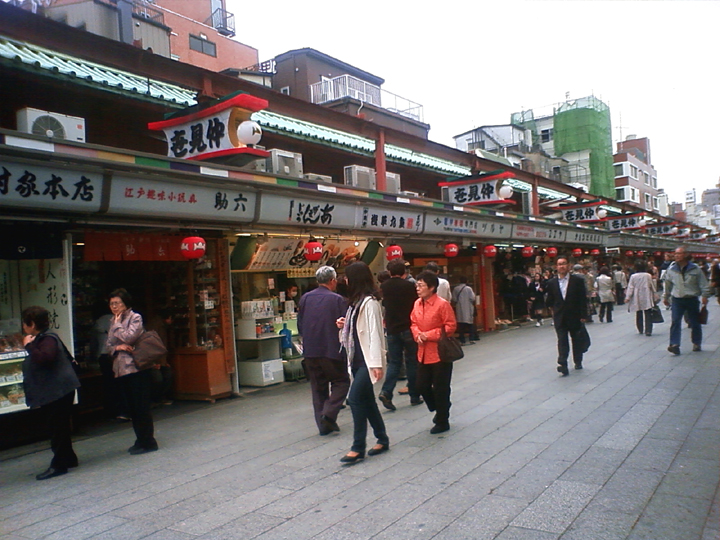 After Tokugawa Ieyasu established the Edo Shogunate, the population of Edo increased and visitors to Sensoji temple became more crowded. Nearby people who were obliged to clean the grounds of Sensoji Temple were given the privilege of opening a store on the grounds of the temple or on the approach to the temple. This is the beginning of Nakamise, 1688? It is said to be around 1735.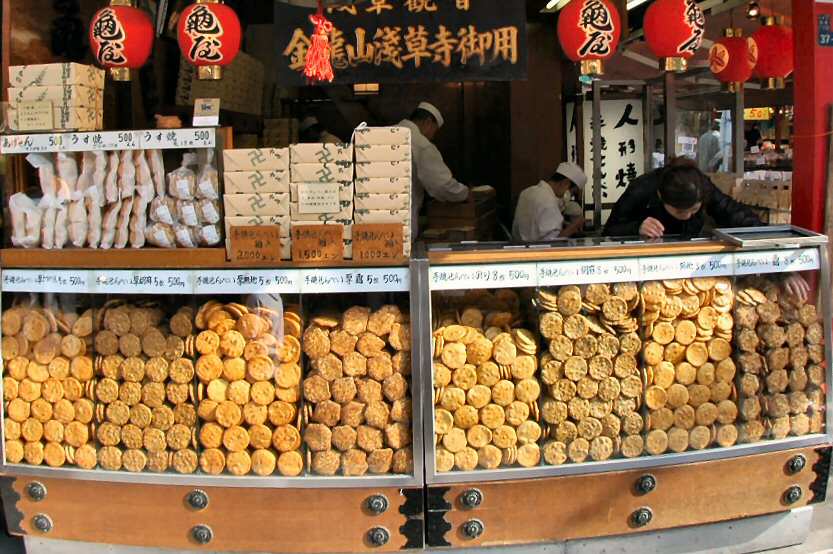 It is said that "Nakamise Street" is one of the oldest shopping streets in Japan. It appears soon after you pass the "Kaminarimon". The path to the shrine is about 250 meters long, and there are 89 shops lined up, such as crafts, folk crafts and sweets shops that are typical of Asakusa.
Famous and popular sweets in Asakusa are Ningyo-yaki "Kaminari Okoshi" and Senbei. Ningyo-yaki is a Japanese sweet made by baking sponge cake with red bean paste in it. Anko for Ningyo Yaki is mostly red bean paste, but there are some green bean paste in it, and some Anko without Anko called An-nashi. The unique ones include matcha bean paste or custard cream.
Originally, the shapes were like dolls used in puppet plays and Shichifukujin (Seven Deities of Good Fortune) . The shapes has changed with the times. Now you can enjoy Ningyo-yaki in various shapes. It is said that Shichifukujin was originally a full-length statue, but soon changed to just a face. It is also said that Ningyo-yaki was originally made in Ningyocho. A cook who trained in Ningyocho started a Ningyo-yaki shop in Asakusa, and some of the shops were modeled after famous places in Asakusa such as Kaminarimon and Gojunoto.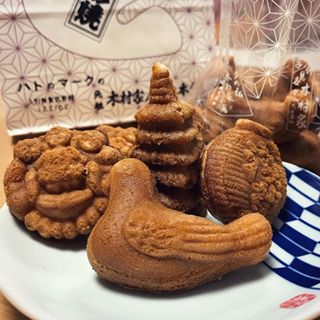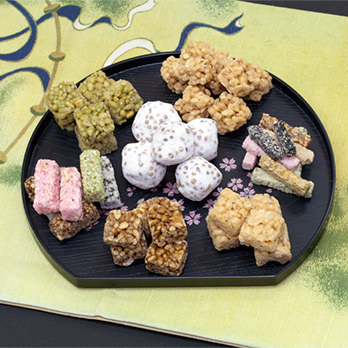 You can enjoy the freshly baked texture of the Ningyo Yaki that is grilled on the spot at the shop in the Sensoji temple or at the shop on Nakameshiodori. In the past, it was one of the pleasures of tourists to walk while eating the food they bought at the store, but recently, it is not allowed to walk while eating here.
Kaminariokoshi is one of Japanese sweets. It is made by roasting steamed rice, mixing starch syrup, sugar and peanuts into puffed "okoshi". The name of Kaminari-okoshi comes from "Kaminarimon". It was sold as a lucky charm with "to raise one's reputation" or as "a charm against thunder"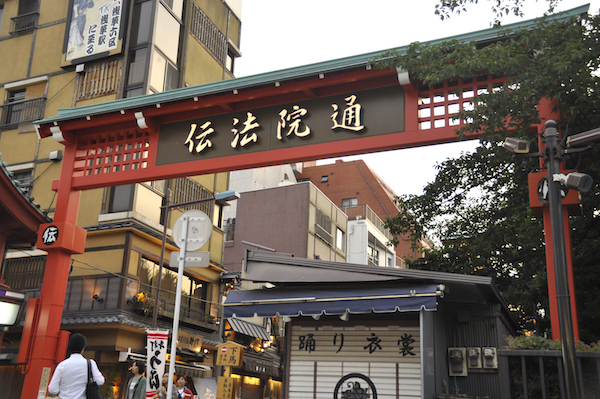 To the west of Nakamise is Sensoji's Honbo "Denpo-in Temple". The road in front of them is "Denpoin-dori Street". The gatepost that says "Denpoin-dori Street" is in the middle of Nakamise street. The street that is around 200 meters long has shops with tiled roofs on the eaves and is a spot where you can feel the atmosphere of Edo. Check out the street lights called "Jiguchi andon (JIGICHI ANDON)" that contain the fashionable words of the Edo Period, and discover "Nezumi kozo" and "Shiranami Gonin Otoko", the heroes of robbers who appear in Kabuki.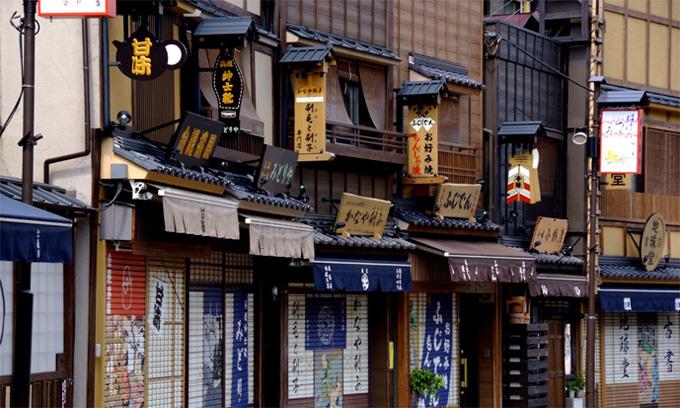 Denboin-dori is one of the busiest streets in Asakusa. Like other streets, there are restaurants and souvenir shops on both sides of the street. This street is especially unique. It is because the atmosphere of the Densho-in street is really like a period drama of Edo, and it is like a theme park. The road you walk along Denboin-dori is not asphalt but a road with a color like ocher.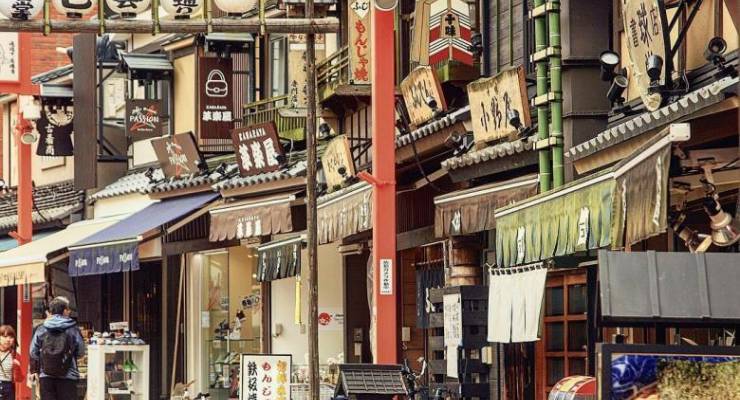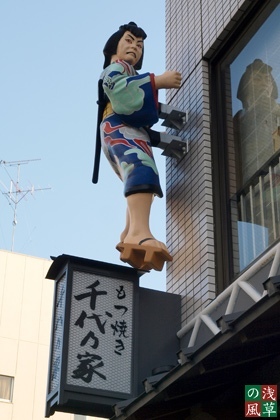 There are characters called Shiranami Gonin Otoko that anyone who likes Kabuki knows. There are actually these men here and there on Denboin Street. Some are in the middle of the road, and some around the store's roof. Now, enjoy finding them!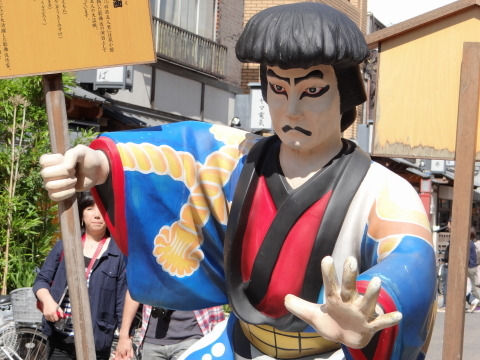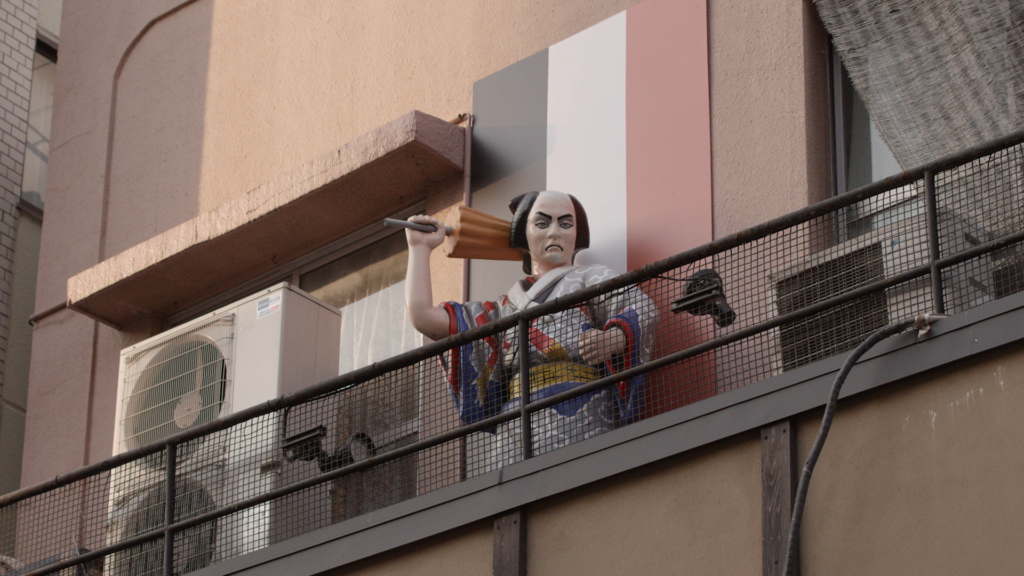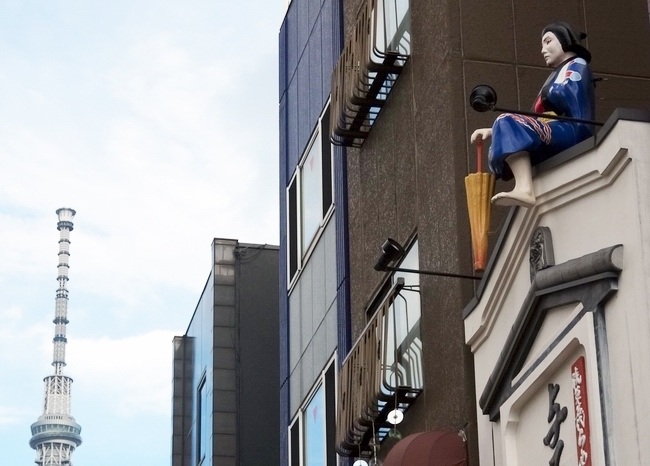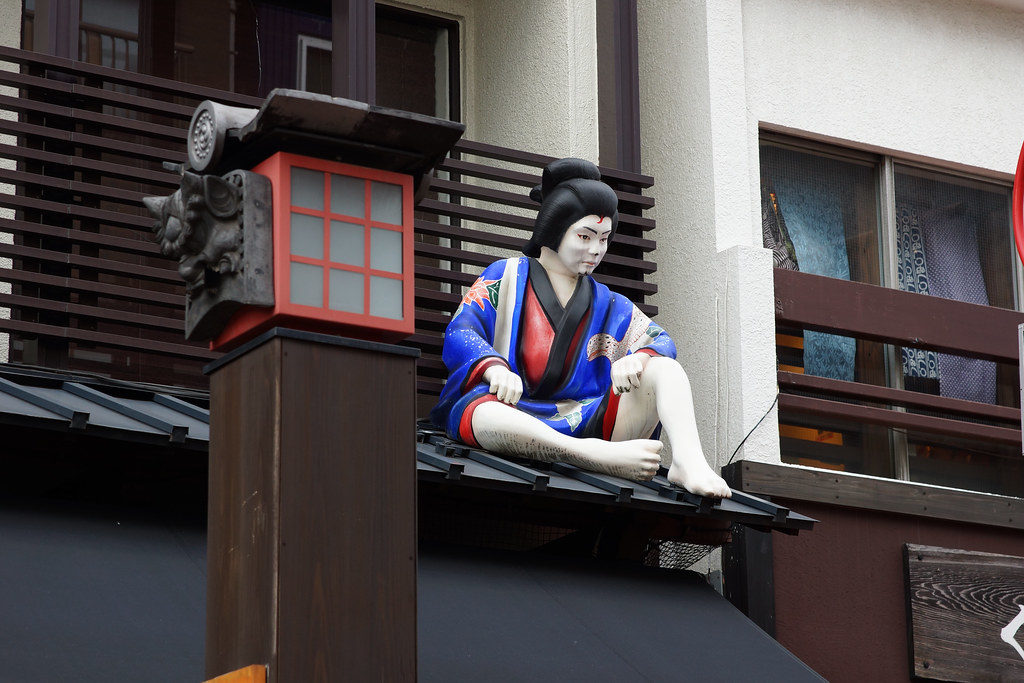 Address: 1-2-chome, Asakusa, Taito Ward, Tokyo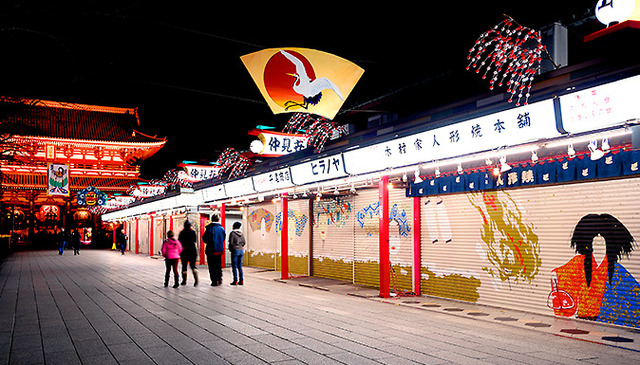 The total length of the shutters of all stores on Nakamise Street is about 380 meters. The shutters of all 89 stores in the Asakusa Nakamise Shopping District are likened to a large campus, and traditional Asakusa events and seasonal features are portrayed as 'Asakusa dai-emaki' full of artistic value.
You can also enjoy shatter art at Denpo-in street, if you go there early in the morning or at night.