There are many very beautiful rice terraces in Japan.
There are also many terraced rice fields that have been selected as "The 100 best rice terraces in Japan". You will be healed by the superb view.
Tanada is a rice field that is stepped on a slope in mountainous areas.
There are many places that you can only go by car, but the view is worth going. It is said that the best time to see it is the spring rice planting season and the harvest season from August to September, but you can see different and wonderful rural landscapes such as rice terraces filled with water.
1.Daisen sennmaida in Chiba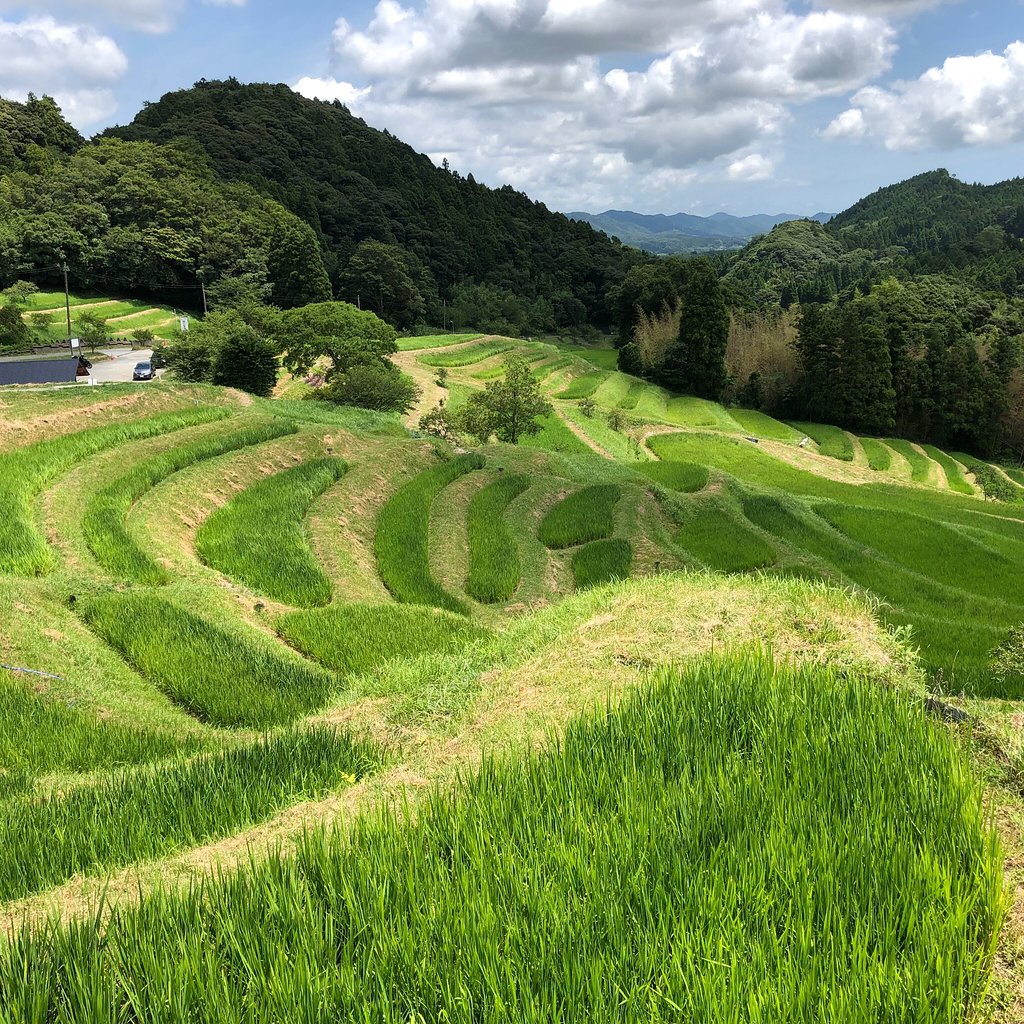 Daisen 1000 sheet rice paddies are terraced rice paddies made on steep slopes in the area of about 4 hectares located almost in the middle of Boso Peninsula. It's the closest from Tokyo. It is the only farm in Japan that uses only rainwater, so many precious plants and animals are seen and the ecosystem and environment are preserved. While enjoying the majestic natural air, you can experience various things such as farming, cooking with a furnace, making special sushi for the festival. 20 minute bus ride and walk from Awa-Kamogawa Station (JR) .
Daisen 1000 Matta
Address: Kamanuma, Kamogawa-shi, Chiba
2. Maruyama sennmaida in Mie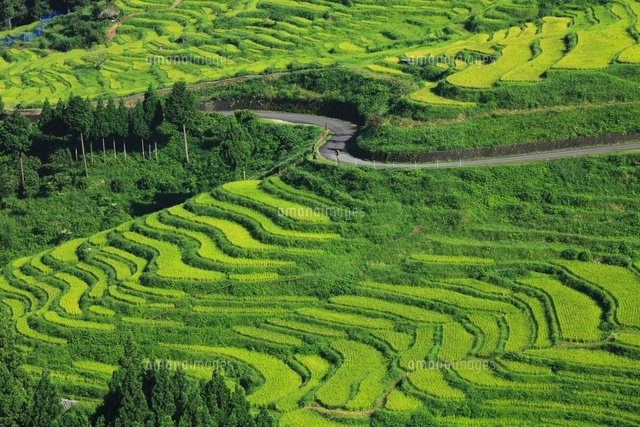 In the Maruyama area of Kumano City in Mie, there are many small rice paddies called 1000 rice paddies. The scenery is wonderful and it is said to be the best Tanada landscape in Japan. As many as 1340 small rice fields are piled up, and they are called "I thought I was missing one, but it was hidden under my hat.". It is not known when these rice terraces were made, but it is recorded that there used to be 2,240 rice terraces. They carry out insect repellents from June to July every year. In the evening, the terraced rice fields are lit and the fantastic scenery spreads.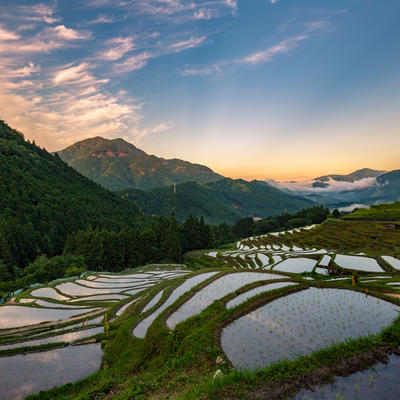 There is a event called "Mushiokuri" there. This event is based on the activities of the old "extermination of pests". In the past, there was no way to deal with harmful insects because there were no chemicals, so local children gathered and got sweets from temples, and walked around the 1000 rice fields in Maruyama with torches, drums, and bells in their hands and drove away harmful insects with fire and sound. Period: Saturday, June 8, 2019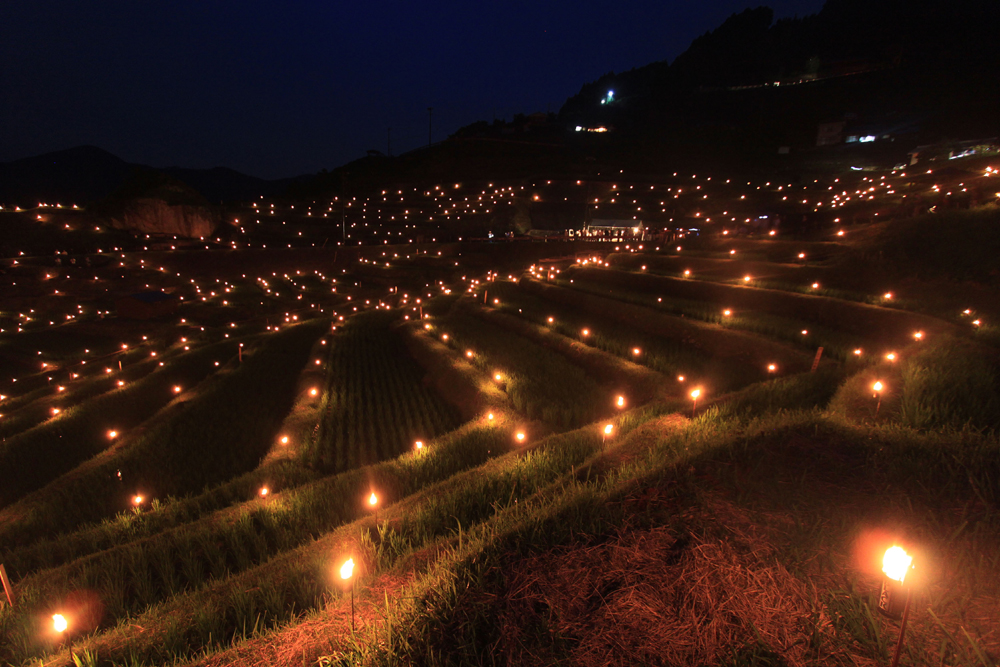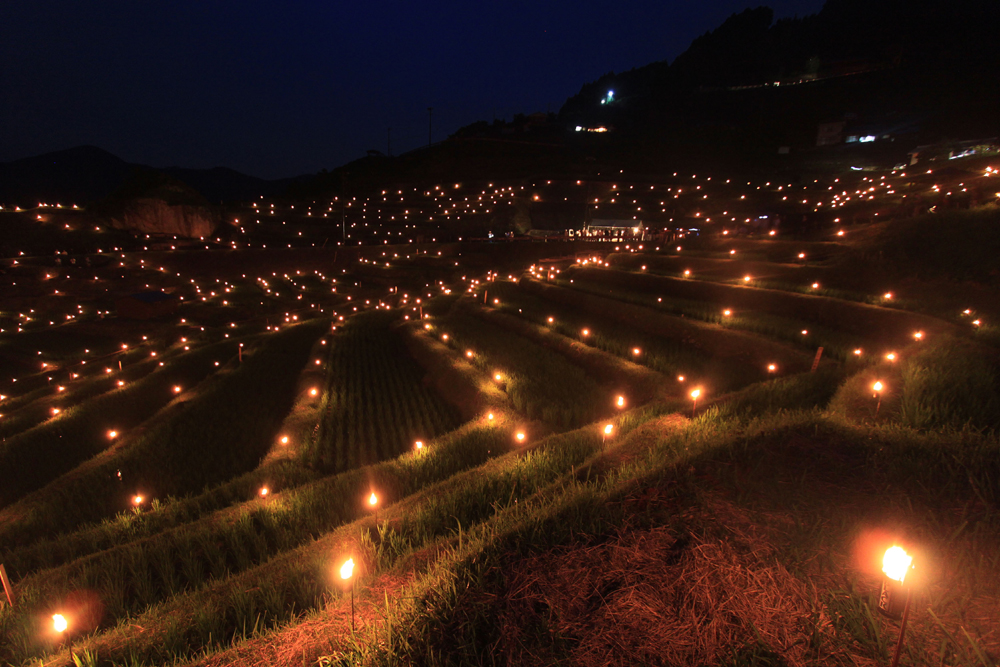 Approximately 40 minutes by car from Kumano Odomari IC. Approximately 30 minutes by car from JR Kumano-shi Station
Maruyama sennmaida
Address: Maruyama, Kumano City ,Mie
3.Inekuratanada in Nagano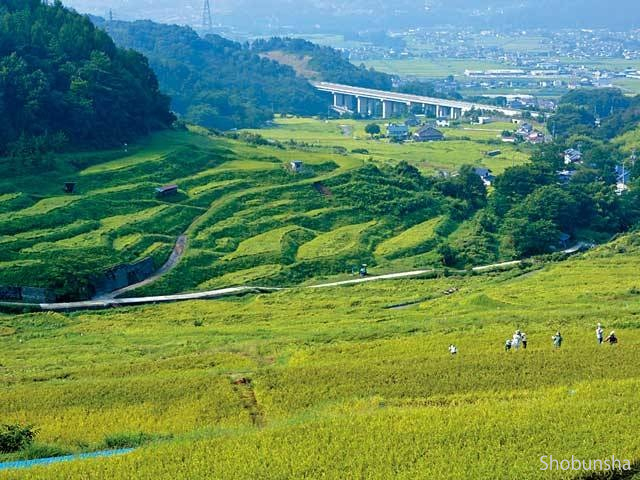 This is a terraced paddy field in Shinshu Ueda Inakura, located in the Tonoshiro district in the northeastern part of Ueda City. The rice terraces of Inakura have been made by local people since the Kofun period or before (At least 1300 years ago), and the rice terraces were formed in Kofun period. The bank is made by a skillful combination of stone walls and mud walls. It extends for 2.5 km along the Inakura River and is 260 meters above sea level. Rice fields of various sizes are spread up the valley from the foot of the mountain.
It is a rice terrace selected as one of the 100 best rice terraces in Japan. It is a very difficult to walk around on a farm road because this terrace is vast and so steep. However, there is a guide service on the fully open 360 cc light truck "Bamos Honda (Year 1971)". A head-mounted display linked to a drone's 4K camera can also be ready s) to enjoy the view.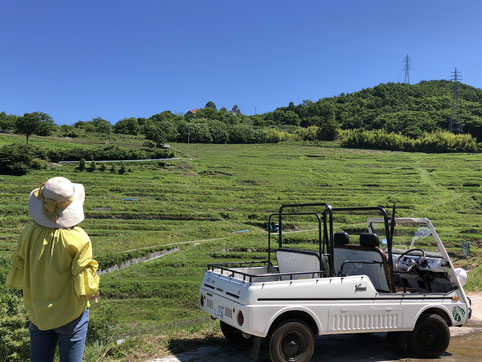 Tanada Adventure Guide
It is held every 30 minutes from 10 o'clock to 17 o'clock on Saturdays, Sundays and national holidays
*Acceptable only with reservation on weekdays.
*Guide Fee (About 30 minutes): 3 participants: 2,000 yen/1 participant, 2 participants: 3,000 yen/1 participant, 1 participant: 2,500 yen (Tax included)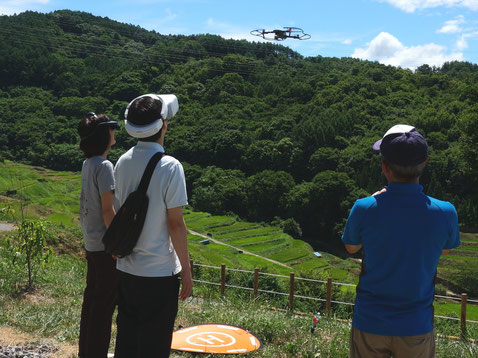 Eagle Flight Adventure
It is held every 30 minutes from 10 o'clock to 17 o'clock on Saturdays, Sundays and national holidays.
*Acceptable only with reservation on weekdays. *Flight fee (About 30 minutes): 2 participants: 2,500 yen/1 person, 1 participant: 3,000 yen (Tax included)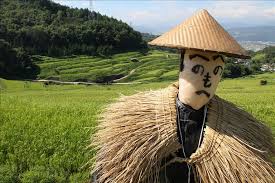 Scarecrow Festival
From the end of August until the harvest is complete, scarecrows (scarecrow) made by everyone will be displayed in the terraced rice fields.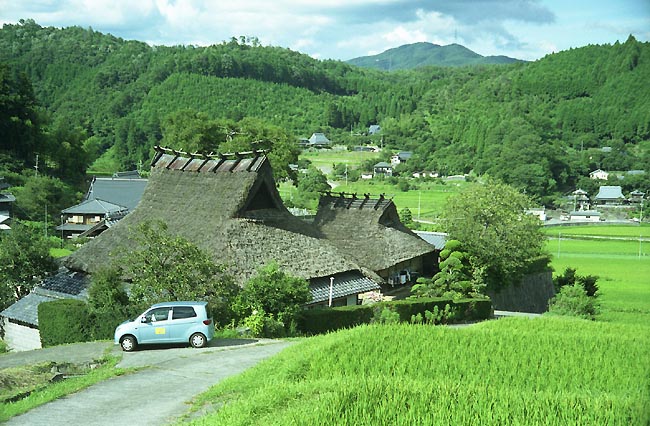 Walking around the terrace is also fun. The rural landscape in Japan is wonderful. You can see the house in its old style.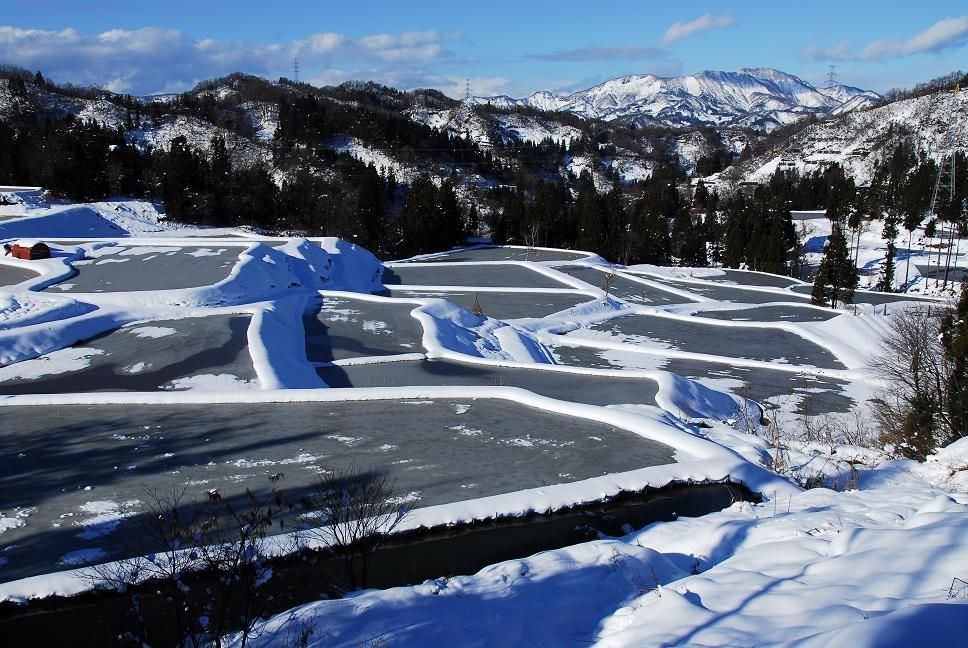 It becomes a snowy landscape in winter.
4. Yotsuyasennmaid in Aichi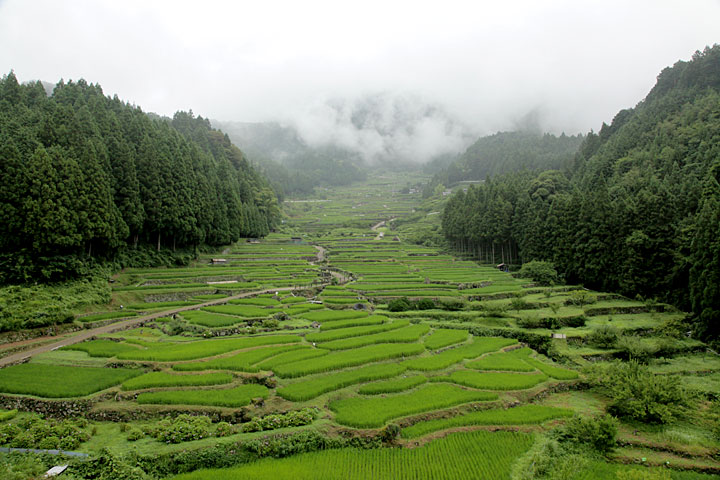 It is one of the 100 best rice terraces in Japan. It is one of the representative Tanada landscapes in Japan. It is said that the landscape, which seems to stretch to the sky with many rice fields piled up, is spectacular and the number of rice fields at its peak was 1296. It is also good to be able to see the full view from the top.You can enjoy seasonal changes such as the colorful green in early summer and the golden color of the rice ears in autumn.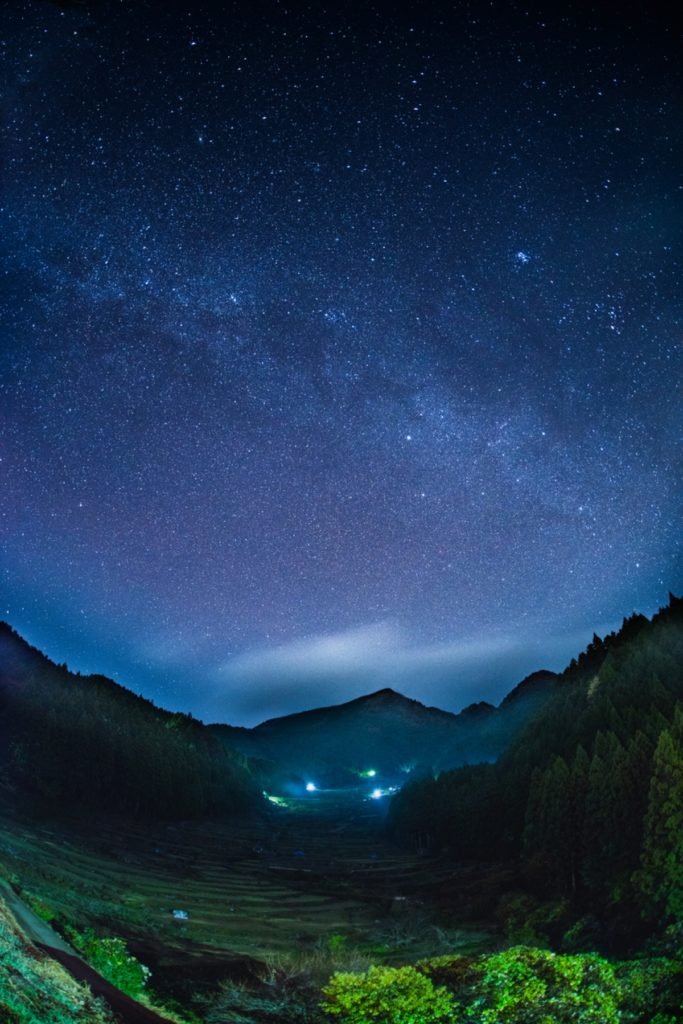 There are no streetlights around, so you can enjoy the starry sky at night.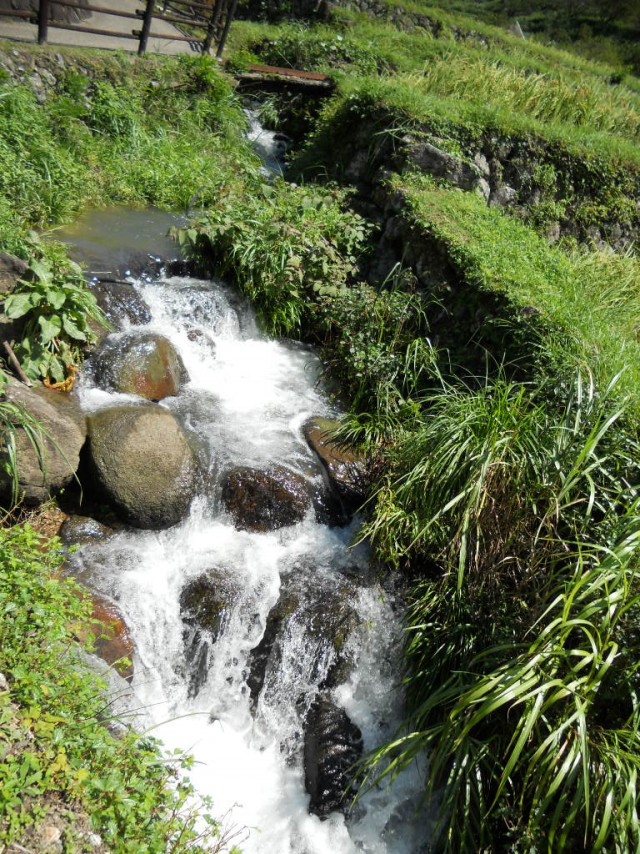 The water of the nearby stream is also very clear.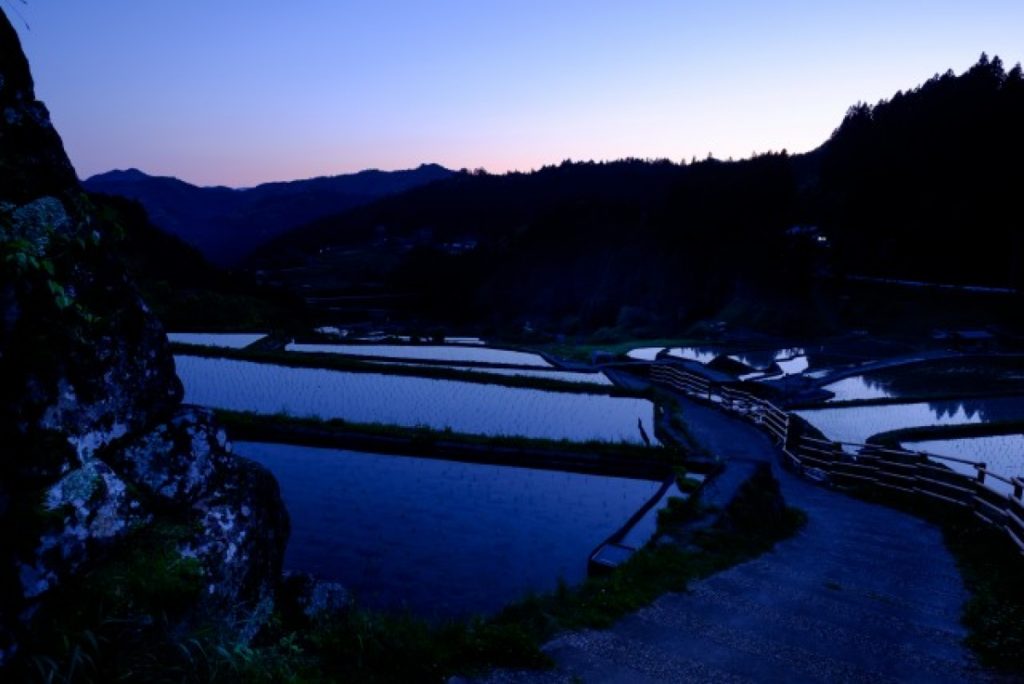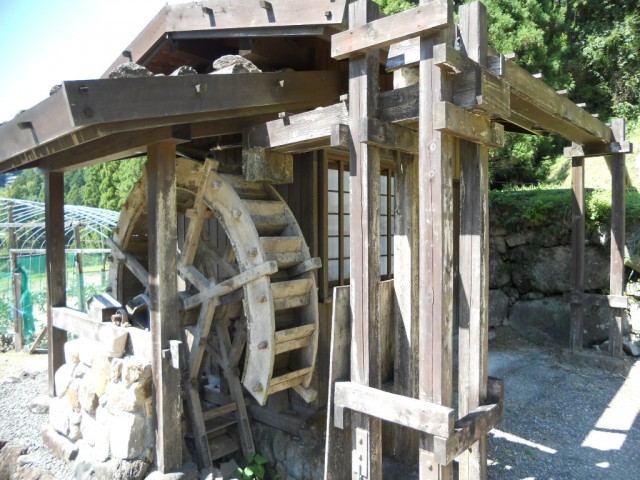 5.Tougobataketanada in Yamaguchi
This is the last one I show you this time, but this is the best one that I want you to visit! The sight of countless fishing fires lit by squid fishing boats is beautiful in the Sea of Japan when the sun sets. So,many photographers visit this area every year to take pictures of this scenery.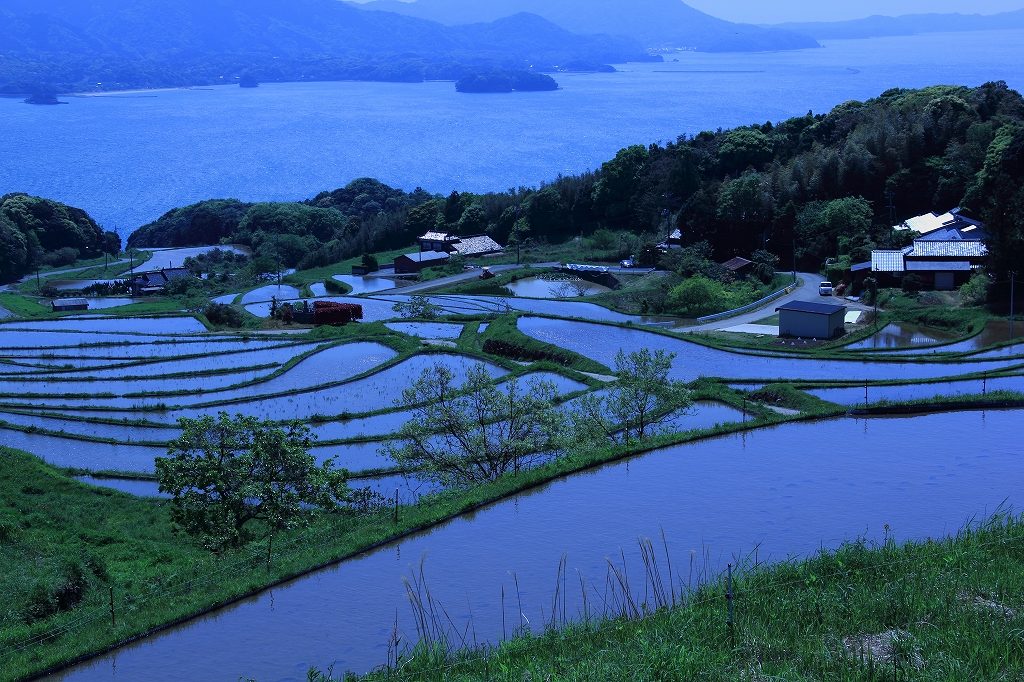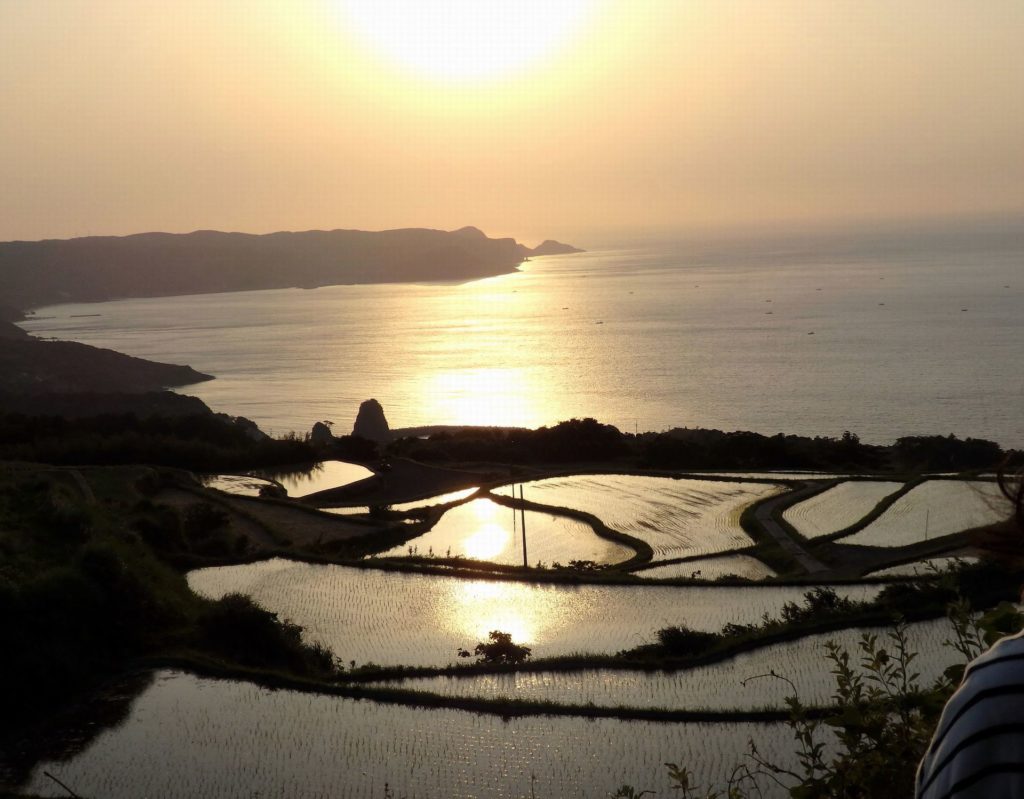 There will be many fishing fires from the middle of May. Since rice grows gradually after June, the reflection situation of paddy fields changes. Fishing place for the fisherman's ships are gradually moving offshore from September, so the fishing fire looks getting weak.On Saturday night and if the weather is bad, many people don't go fishing, so there are less fishing fires.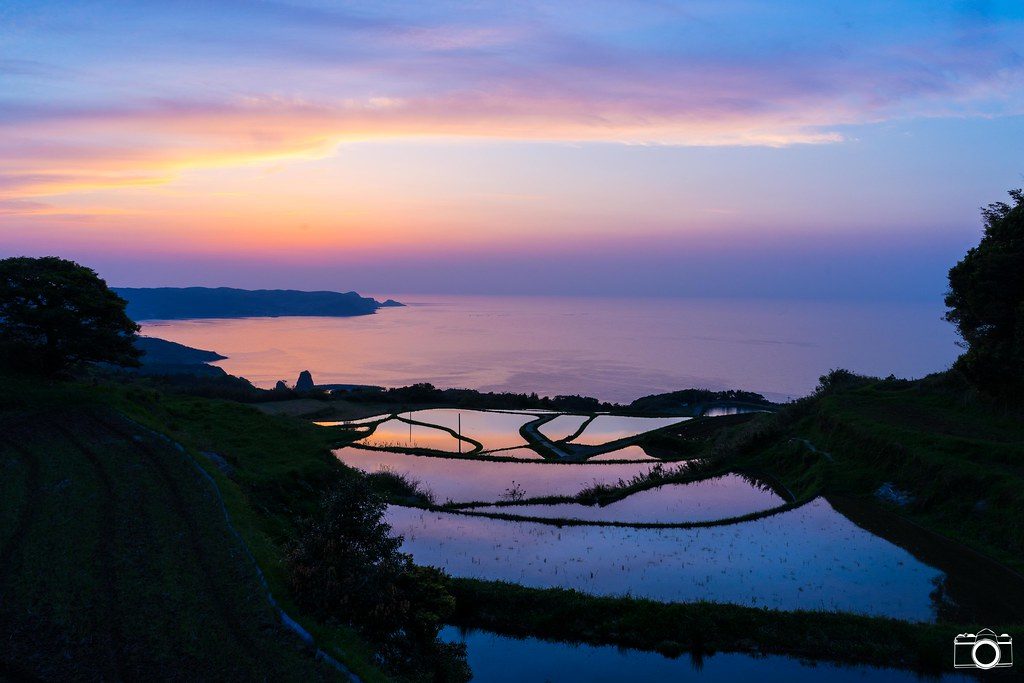 About 600 hectare of large terraced rice paddies are located in Mukoujigu Peninsula in Nagato City's Aburatani District. This is chosen as one of "The 100 best rice terraces in Japan" by the Ministry of Agriculture.Tanada is usually located in mountainous areas, but this areas is close to the coast. You can see the Sea of Japan down below.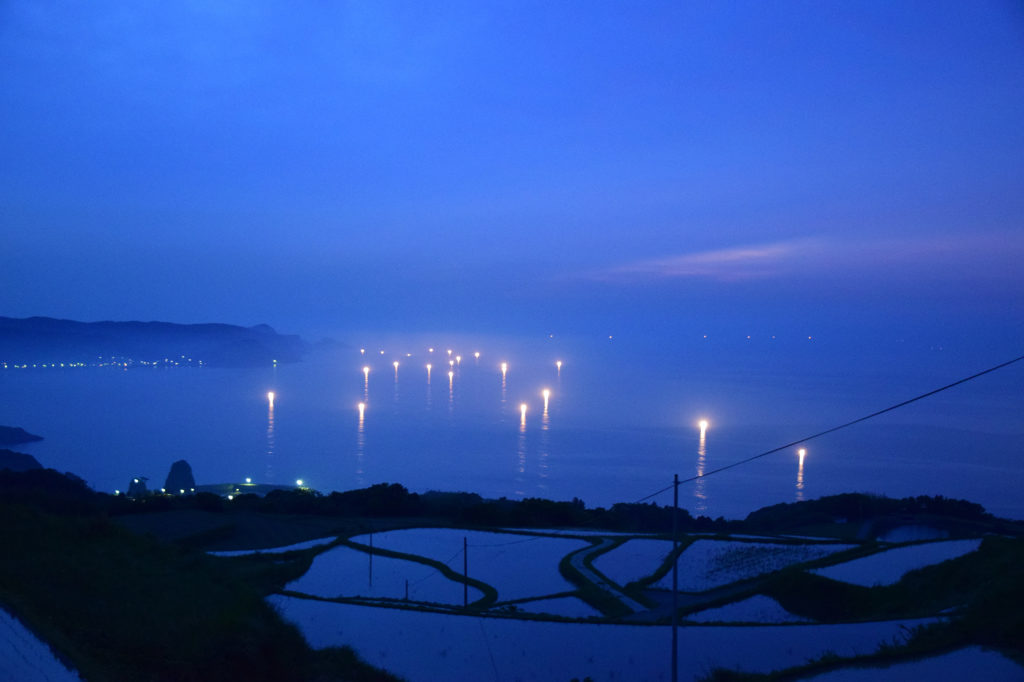 It is difficult to access by bus or train. Please use private car, rental car, or taxi.
The road is narrow, so large buses cannot enter. There is no information to enter in the car navigation system, so please check the information map and the local information board. If you head for Motonosumi Shrine and Ryugu Shiofuki from the direction of Nagato-Furuichi Station, there is a guide board along Prefectural Road 66.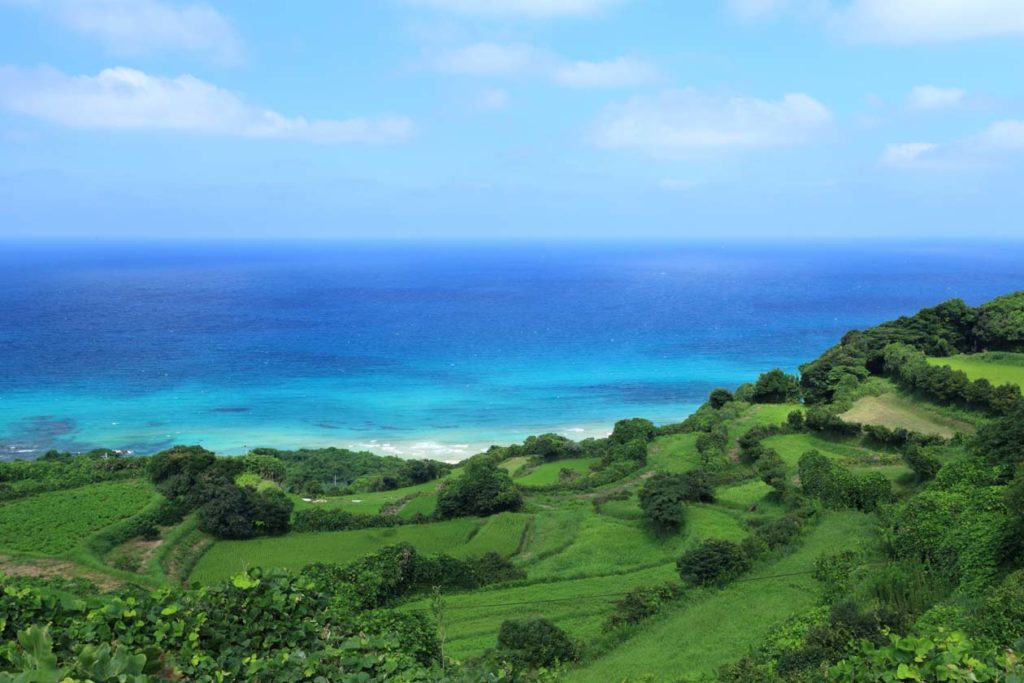 Address: 410 -1 Aburatani-Ushirohata, Nagato City, Yamaguchi Prefecture
Access: 20 minutes by taxi from the JR Sanin Main Line "Nagato-Furuichi Station"
*Take the Chugoku Expressway to Narai IC "Mine IC" and drive 60 minutes via National Route 316 and 191 Prefectural Road 66.